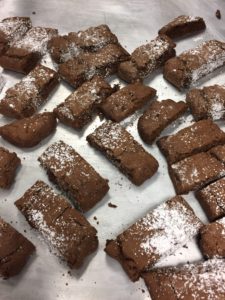 Since 2001, LMD Biscotti Co. has been baking up rich, decadent double chocolate biscotti for the enjoyment of family, friends, coworkers, and over the years has grown to serve the greater public. Crafted by hand, in small batches, these cookies are proudly made in Bergen County, New Jersey and have been shipped allover the country and enjoyed at corporate functions in New York City.
Lightly sprinkled with powdered sugar, these treats are resplendent with flavor, surprisingly moist (think brownie-meets-cookie) and just plain delish!  One taste and you, too, will agree… Lisa Makes Delicious Biscotti 🙂
LMD Biscotti Co. Holiday 2017 Offering:
*NEW for the Holidays*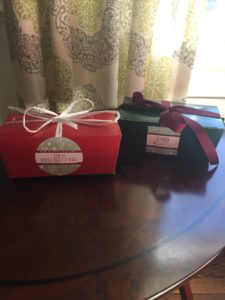 Gift Box — $12
Approx 1/2 pound of double chocolate biscotti elegantly packaged in holiday red or hunter green box, tied with festive ribbon. Makes for a beautifully presented gift and perfect for shipping. (note: limited number of green boxes are available. Festive ribbon may be slightly different from what's in photo)
Sharing Tray — $25
Tasked with bringing dessert for the holiday table? Done-and-done. 1.5lb of double chocolate biscotti goodness artfully arranged on a clear platter and wrapped in cello.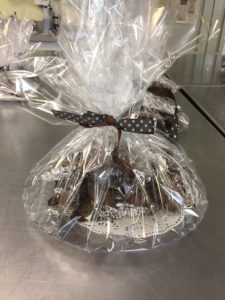 A Little Something — $10
Whether off to a playdate/cocktail party or looking for "a little something" extra to give at the holidays, this 6-piece biscotti offering comes elegantly displayed on a clear square plate and wrapped in cello.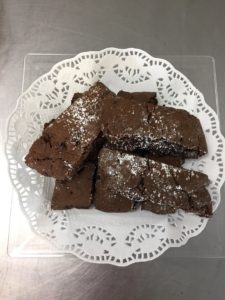 Treat Bag — $6
Stocking stuffer? Gift for the teacher/babysitter/mail carrier? Or maybe just for you! This 4-piece snack pack is a festive, fun and tasty treat. *cello bags change seasonally*
LMD Biscotti Co.
providing decadent biscotti treats for:
party/wedding/shower favors 
holiday  & corporate gifts | centerpiece sharing trays| baking on consignment
For your holiday or special event baking needs, or to PLACE AN ORDER, please contact us at LMDBiscottiCompany (at) yahoo.com or (201) 390-6582
Allergy note: these products may contain peanuts, tree nuts, wheat, soy and dairy products.
Shipping and handling fees additional.
LMD Biscotti Co. is a Groupe a la Mode LLC brand.