"Mom – that was awesome!" is the sentiment that pretty much sums up my son's take on Aquatopia Indoor Waterpark — the newest addition to the Camelback Resort located in the Poconos (Tannersville, PA).
Roc and I had the chance to visit the largest indoor waterpark of the Northeast last week to check out the complex firsthand. Camelback Lodge and Aquatopia, situated at the base of Camelback Mountain, officially opens to the public this Friday, May 1st. We're excited to share our thoughts with you, as it was a super fun experience, and one we hope to do again.
What struck me the most about Aquatopia is that there truly is something for everyone in a family. Meaning, if you have a range of ages – from itty-bitty baby to thrill-seeking tween or teen to parents/grandparents – everyone will feel accommodated and entertained.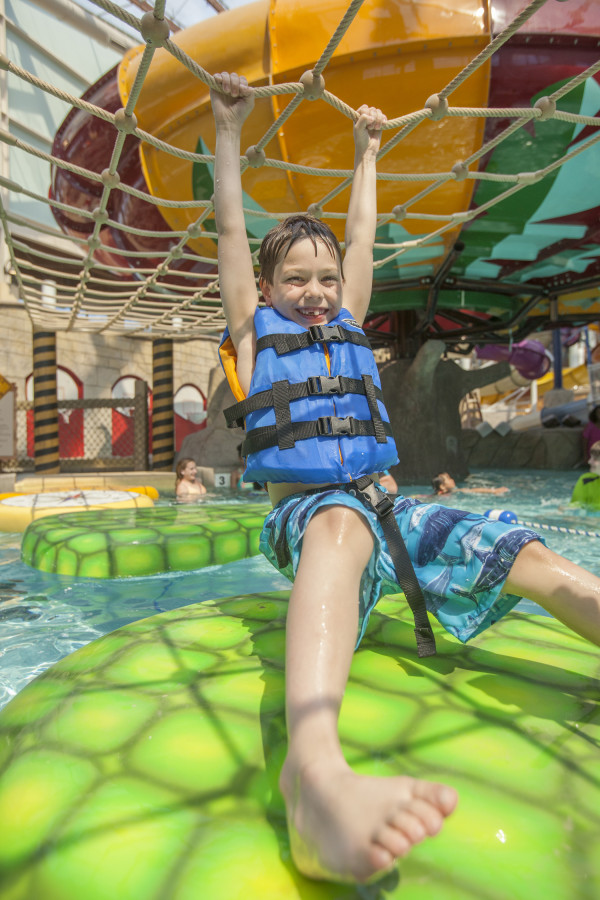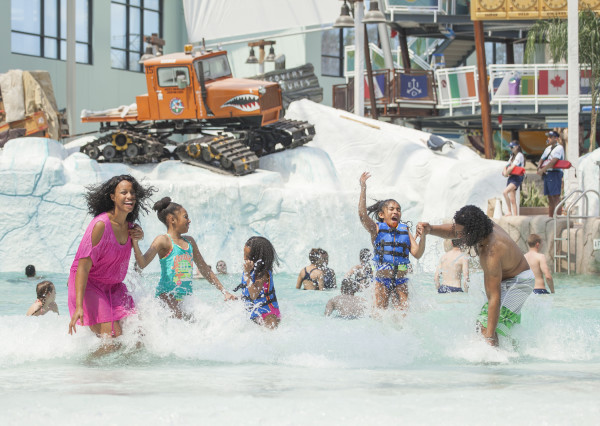 Especially the adults – as this is one of the only indoor waterparks I've seen with a swim-up bar (like you're on a resort vacation!)
And that's just it — Aquatopia feels like a resort – there are many places to eat, lots to do and a place to rest your head at the end of the day, as the adjacent Camelback Lodge features a distinctive eight-story mountain-modern architecture with 453 suites available in 24 different configurations – from lofts to suites with bunk beds. While prices vary depending upon timing and availability, they tell me that a double Queen Suite that can sleep six will run you $199 – and that includes your tickets to Aquatopia.
While we didn't get to experience all of the rides (most of the thrill rides weren't open just yet) we did get to splash around in the wave pool, play bay, and giant aqua-play center. We had our eye on the lazy river, which they call "The Lost River," described as "a dark, immersive adventure river experience with LED underwater and theatrical lighting, and sound and water special effects," but it wasn't quite ready for us.
We cheered on the surfers catching a wave on the Bombora Flowrider – which looked like a great introduction to surfing or boogie boarding.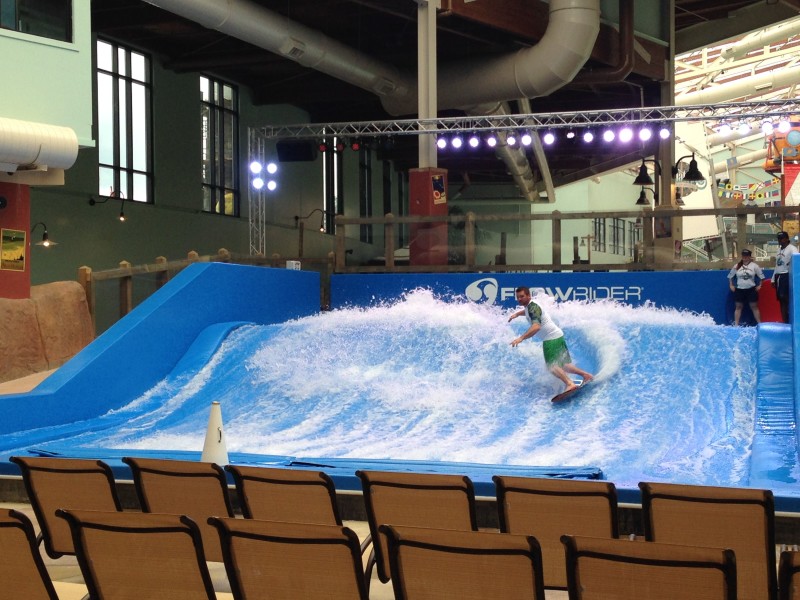 And we thoroughly enjoyed our time playing some of our favorite "Boardwalk games" in the Arcadia arcade.
Here's what else you need to know:
It's eternally 84 degrees inside thewaterpark and honestly, there was no icky chlorine smell.
The complex is manageable to navigate with little ones and is complete with an arcade, mini golf course, lazer tag, rock climb and ropes course – all indoor – and there's even a spa for children ages 4 and up that offers services like manis, pedis and facials. All of these attractions are a la carte.
Pass Packages are available for purchase for the Arcadia attractions – you can bundle your arcade credits, lazer tag, etc.
Here's what's already provided for you atAquatopia:

life vests in assorted sizes
towels
chairs
changing room
locker rentals for $1 (cash or credit cards accepted)
The Pocono Mountains are clearly in the midst of a renaissance. Gone are the days of those iconic heart-shaped beds and champagne-glass tubs in the '80s and '90s (remember those Mount Airy commercials?!) With the Aquatopia and Camelback Lodge project pretty much complete, Camelback Resort has successfully transformed the Poconos into a year-round family and adventure destination.  And I am definitely interested in taking my family — and our friends, too! — back in the winter months so that we might enjoy a weekend of skiing, snowboarding, snow tubing and now all the amenities of the largest ski in/ski out indoor waterpark resort in the U.S.!
Perk Alert: For those who book a stay at Camelback Lodge, your ticket to Aquatopia is included in your room fee. But for those in the area who want to just check out Aquatopia for the day – it's just 90 minutes from NYC — they are offering a special day-rate ($39.99 for guests 48 inches and over and $29.99 for guests under 37) from May 11 to June 14, 2015. Beginning June 15th, Aquatopia will only be accessible as part of a hotel reservation, and day passes will only be available for Camelback Resort guests when you show proof of purchase from the outdoor Camelbeach Waterpark, Camelback Mountain Adventures, or winter lift pass to purchase a day pass.
oxox
-mom a la mode
{I participated in Aquatopia's Media Day and was granted waterpark access for review purposes only. All opinions expressed here are solely mine.}