Last month I had the chance to attend the Disney Social Media Mom's Conference once again.  And once again, it did not disappoint.  One of the best parts of the conference was being able to hear from Disney Pixar Vice President of Production, Jonas Rivera, who is one of the producers of Pixar's latest release, "INSIDE OUT".
I'm thrilled to share with you the below clip and some fun downloadables and highly encourage you to go see it!  My almost-five-year-old sat through the entire movie and I loved the all-star cast (Amy Poehler, Bill Hader, Mindy Kaling just to name a few!)
As part of the conference, we saw exclusive behind the scenes of the making of the movie and Jonas shared with us the process — the FIVE YEAR PROCESS — it took to make this film come to life.  Just incredible!
Enjoy, and do let me know in the comment section below if you plan to see "INSIDE OUT" and what you and your kiddies thought!
 Some Fun Facts to take note of when you go see the movie:
The globe in the Riley's classroom has been used in all the "Toy Story" films.
One of Riley's classmates is wearing a camo pattern made up of "Toy Story" characters.
Some of the background city cars of San Francisco have bumper stickers from "Cars."
Some Fun "INSIDE OUT" downloadables for the kiddies:
(to download, simply click on image and click again on link in middle of page — it will pull up a PDF of the image you see that you can easily download and print)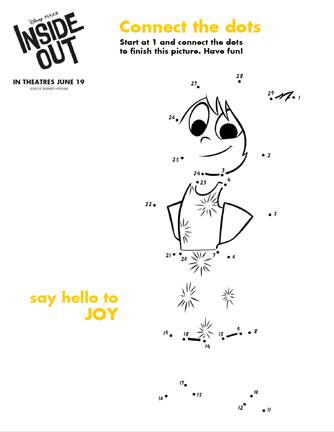 oxox
-mom a la mode
{I was not compensated in any way for this post. All opinions expressed here are solely mine.}