mom a la mode guest contributor, Jackie Martoccia, shares her experience at the latest Bergen County, NJ opening of popular pizza restaurant, Anthony's Coal Fired Pizza.  (Good luck not being hungry after you read this post xo)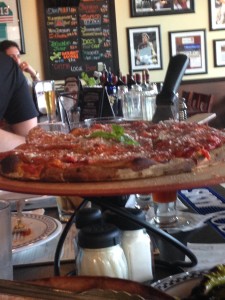 I love pizza. It's my go-to comfort food. So, when the chance to attend the grand opening of Anthony's Coal Fired Pizza, in Englewood, NJ presented itself I jumped at it. When my husband, Paul, and I walked in to the restaurant I could feel the warm family atmosphere of the place and made a note for future visits that our children would be definitely be welcome here.
We sat at the bar and were enthusiastically greeted by the mixologist, Rachel, from the company's headquarters in Fort Lauderdale. Rachel chatted with us about the pizza chain restaurant. Anthony's Coal Fired Pizza first opened back in 2002 in Fort Lauderdale by Anthony Bruno, a native New Yorker and has expanded to more than 50 restaurants throughout Florida, Massachusetts, New York, New Jersey, Pennsylvania, and Delaware.
Anthony's focus is on Italian "soul food" made with simple, fresh ingredients. Paul and I began with a few starters such as the fresh coal-oven roasted wings and a classic Italian salad with Anthony's own dressing. Both were very good, especially the wings which were not breaded at or fried but baked and topped with caramelized onions.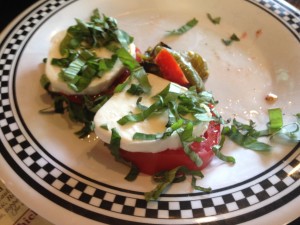 Our next course was the mozzarella and tomato salad drizzled with balsamic and topped with basil chiffonade. I was not expecting much as this salad seemed like any you would have in any Italian kitchen, but upon first bite I realized I was wrong. Both Paul and I were amazed by the freshness of the tomatoes. Paul though they tasted like Jersey tomatoes in August. I asked Rachel about them and she explained that owner Anthony is personally involved in the selection of the tomatoes used.
Next on our taste test was the meatballs. As much as I love Italian food, I have one rule —  I only eat my mother's meatballs, so I let Paul be taste tester. He coaxed me take a bite of his, and it was heavenly. I have to say they were very close to my mom's. The homemade meatballs served with a dollop of ricotta are one of the restaurant's top sellers.
Then we sampled various pizzas. All pizza were cooked to perfection in the 800 degree coal burning oven, but my favorite was the Eggplant Marino, a favorite of NFL Hall of Fame legend and partner, Dan Marino. Paul's favorite was the Paul and Young Ron, which is a meat lover's paradise. With tiny meatballs, spicy peppers, and ricotta, it is unlike your traditional pizza.
The pizza crust's texture is thin but sturdy enough to hold up to toppings and soft enough to offer a chewy bite.
Usually, I am not a mixed drink fan, but I had to indulge looking at the Italian-themed libations, boasting creative names, like Pizzatini and Bloody Maria, Anthony's pays tribute to his Italian roots by using Italian liquor such as Campari, Frangelico, and Amaretto. Being a fan of hazelnuts, I ordered the Nutty Italian and was won over by the way the Frangelico perfectly complemented the "dirty cherries", cherries slow cooked in maple syrup, garnishing the cocktail. They were amazing. Being that we ordered pizza, I felt I had to try the Pizzatini The drink is made with vodka, Campari, fresh lemon, and basil. I was apprehensive about the addition of basil in a cocktail, but after the first sip, I was hooked. The Pizzatini has a clean lemon taste with a subtle hint of Campari. Very refreshing on a hot day, and of course, goes well with pizza.
Anthony's is a rare chain restaurant that has it all –it is fresh, fun, and delivers quality food with simple ingredients! For me I am definitely going back for the homemade meatballs!
{The guest contributor was invited to a media preview tasting of Anthony's Coal Fired Pizza, Englewood for review purposes only. All opinions expressed here are solely those of the guest author.}