It's finally here – Back to School!
While we had a blast this summer at the Jersey Shore and local parks, museums and amusement parks and ate our fill of soft serve vanilla ice cream with rainbow sprinkles (my son's dessert of choice), every season must come to an end.
But the fun part of summer coming to an end is the Back to School shopping that happily transitions us into a new season!
Admittedly, I'm on record (with The Record, actually!) on saying that most of our Back to School shopping was done online. Truth. But we did find our way to Target for our lunchbox and THERMOS® back in July. And just last week, after passing it on the NJ Turnpike on our weekend shore excursions, we FINALLY spent a Sunday at The Mills at Jersey Gardens, located at Exit 13A in Elizabeth, NJ to pick up some final items on our list.
I have not been to "Jersey Gardens" in years. The last time I was there, it was dark, made almost entirely of concrete, except for these odd hanging fake foliage contraptions that were supposed to make you feel like you're in an, err, garden I guess?
Fast forward to fashionable 2016 and The Mills at Jersey Gardens is sleek, bright, airy and brimming with high quality fashion retailers at some of the most amazing prices I've spotted in a while (extra bonus: low sales tax!)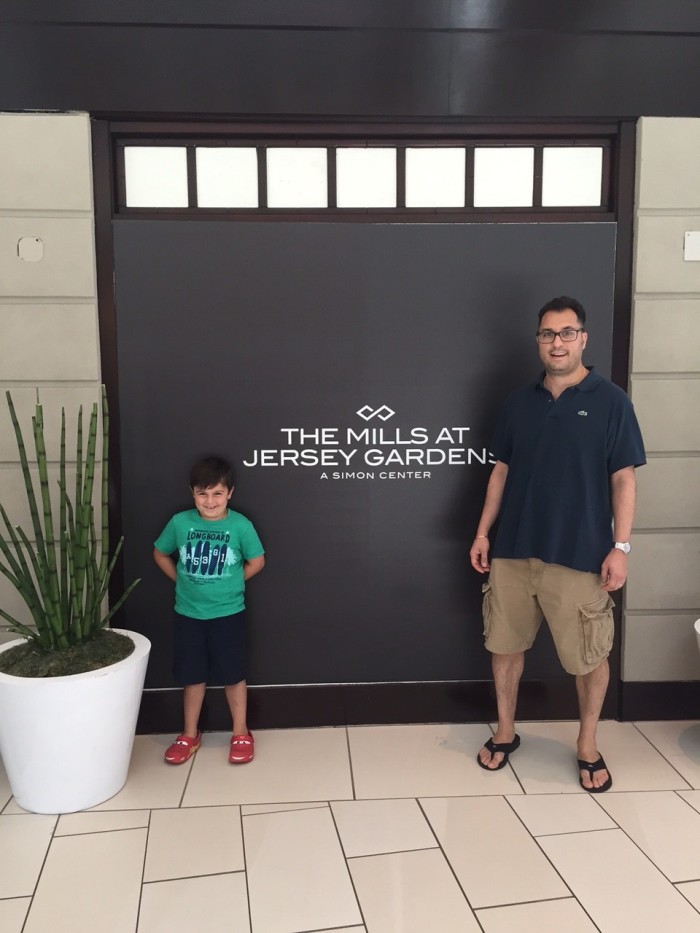 With The Hubs and our boy in tow, we spent a few hours popping in and out of stores like Vince Camuto, The Lego Store, Carter's, The Disney Store, Marshall's, Cohoes, Sketchers and stopped for a well deserved lunch break at Johnny Rocket's.
Our shopping trip was a big success mostly because we timed it right – we got there just about 11am, when parking spots were still easy to come by and crowds were minimal. By the time we left at around 3pm, the mall was bustling big time and the parking lot was anything but cool, calm and collected. So my big advice is GO EARLY!
Roc was happy to pick out a new keychain for his backpack at The Lego Store, while also selecting some fundamentals like Spider Man pjs and Lego underwear at The Disney Store and Marshall's respectively.
Overall, it was a wonderful day out with the family and some great shopping was done by all. We'll be back for sure!
About The Mills at Jersey Gardens
The Mills at Jersey Gardens is New Jersey's largest outlet and value retail center with over 200 stores under one roof. A shopper's paradise, The Mills at Jersey Gardens is anchored by top outlets including Saks Fifth Avenue OFF 5TH, Neiman Marcus Last Call, Century 21, Marshall's, and the best brand outlets including Michael Kors, Coach, Calvin Klein, Banana Republic, Nike, True Religion, Nautica, PUMA, Kenneth Cole and Guess. With daily transportation from both the Port Authority Bus Terminal and Newark Liberty International Airport, the center is a great day-trip out of the hustle and bustle of New York City and features tax-free shopping on clothes and shoes.  Located at 651 Kapkowski Rd. in Elizabeth, The Mills at Jersey Gardens is easy to access off of exit 13A on Interstate 95.  For more information visit www.simon.com/mall/the-mills-at-jersey-gardens.
oxox
-mom a la mode
{I received a gift card to The Mills at Jersey Gardens for purposes of this review.  All opinions expressed here are solely mine.}