I've been working on getting myself back into a fitness regime — I started up at a local gym; my son and I have been walking to/from school most days now that it's above freezing temps; and I've been logging my calorie consumption and tracking my exercise on a fun little app called My Fitness Pal. The last piece of this puzzle is a biggie for me when it comes to losing weight and toning up:  PROTEIN.
Upping the protein in my diet and limiting the carbs, coupled with a decent amount of cardio and strength training has historically been the winning formula for me looking and feeling great.  And with the power of protein, as we all know, we tend to feel fuller longer and see less spikes in our blood sugar.  Protein is the real deal when it comes to weight loss…at least in my experience.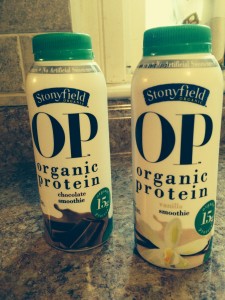 So when my friends at Stonyfield Organic shared their latest product — the OP Smoothie — with me to try, I was excited and eager to add the protein-packed drink into my repertoire of healthy options.
I tried the OP Smoothie in 2 flavors: Chocolate and Vanilla, but it is also available in Strawberry. It has many traits that I look for in a healthy product: it's organic, there are no artificial sweeteners, it's got a ton of protein (15 grams to be exact.) And then, because it's made by a yogurt company, there's the added benefit of 5 live active yogurt cultures.
Let's talk taste for a momento.  I happen to really enjoy yogurt and I favor a tart, tangy taste to yogurt (like a Greek yogurt flavor). This is what you will get with the OP Smoothie — it is, after all, a fortified yogurt drink of sorts.  So it DOES taste like yogurt.  It's not too sweet and does not have that weird artificial aftertaste thingy….because there are NO ARTIFICIAL items in it.
So for those looking to boost their protein intake, or are looking for a healthy on-the-go option that is filling and tasty, be sure to check out Stonyfield's OP Smoothie. Visit the helpful store locator on the Stonyfield website to see where you can purchase in your area.
And now that I've shared with the world that I'm on a fitness regime, I feel like I'll need to be accountable for keeping up the progress.  I better go update My Fitness Pal…I may have neglected to enter a day or two…
oxox
-mom a la mode
{I am a compensated brand ambassador for Stonyfield Organic.  I received complimentary product samples for review purposes.  All opinions expressed here are solely mine.}