Don't you just hate it when you've been looking forward to a night out to sample amazing food, drink and mingling with some fantastic folks….and then the tummy troubles hit and you're completely sidelined?!
Oye.
Thankfully, my friends, Eric and Christen Gross were willing and able to share their firsthand account of the fun, food and festivities at St. Joseph's Children's Hosptial's Cooking for Kids event which took place on April 19th.  I turn le blog over to Christen to share her experience:
My husband, Eric & I are regulars at the annual St. Joseph's Children's Hospital's Cooking for Kids event.   We try to go to this occasion every year, as it is a really fun evening for a great cause and a chance to try delicious food from local restaurants. This year I was grateful to be invited as Lisa Pisano's VIP Guest and since she wasn't feeling well that evening, I agreed to help out by photographing the event and writing up a little something…Here it goes…
This year the event was once again held at Westmount Country Club in Woodland Park, New Jersey and featured many chefs and restaurants from all over the New York/New Jersey area.
From the start, we walked around the event with our cousin Jill Avella and her fiancé, Dr. Satish Tiyyagura, a cardiologist at St. Joseph's.  Jill and I LOVED the Beet Tartare with Black Truffle and Aged Balsamic on a crostini from nico kitchen & bar.  nico is located at the New Jersey Performing Arts Center in downtown Newark.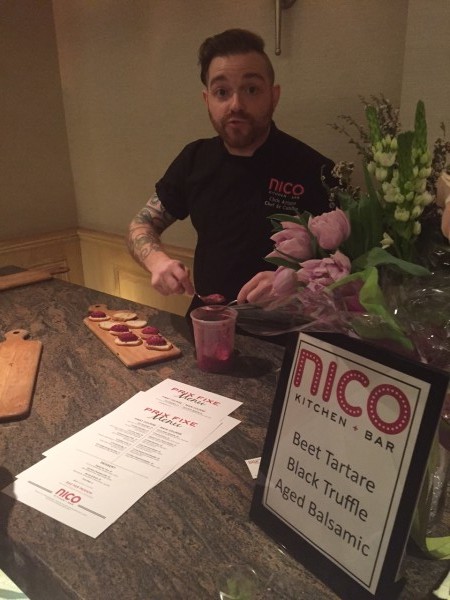 Where was this restaurant when my husband was living around the corner in downtown Newark during law school years??
The online menu looks awesome and it is definitely a place we want to check out as I saw they have grilled octopus on their menu. I am hoping they read this and next year feature that dish!
Satish was a fan of the beef tacos and guacamole from Villalobos, which is an awesome BYO Mexican joint in Montclair.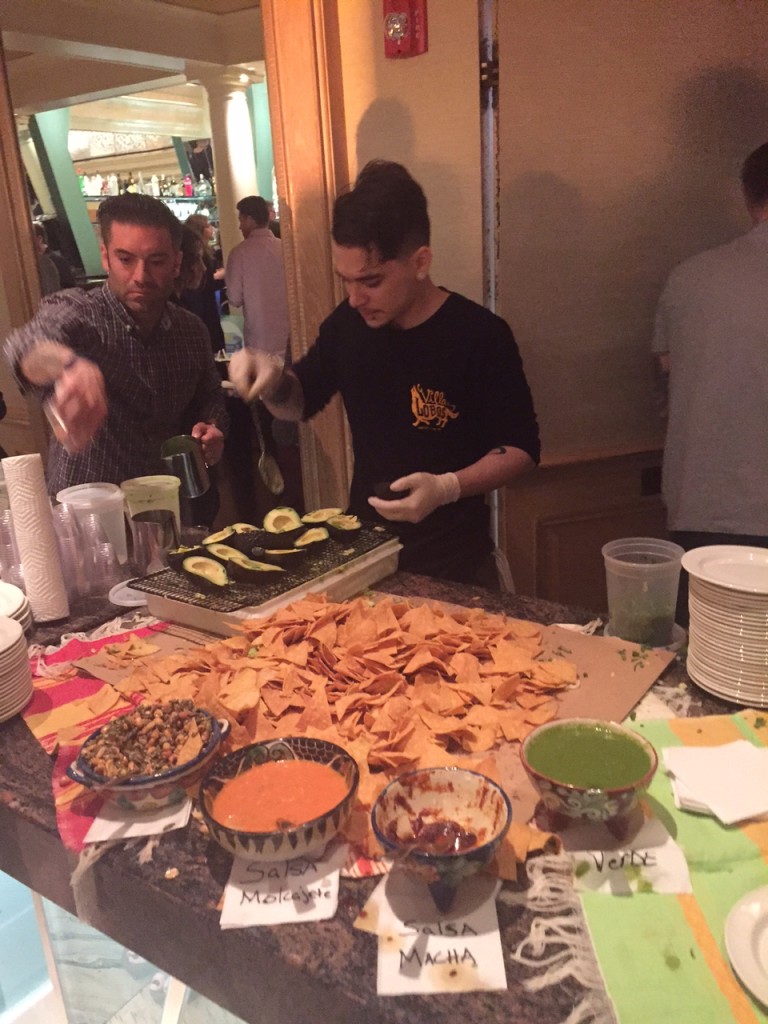 Some of my husband Eric's favorite dishes of the night were Chef Anton Testino's sautéed mussels in a basil cream sauce and crab cakes.  Chef Anton explained to us that he has a new restaurant called "Axtons" in Pompton Lakes, which we are very eager to try on our next night out.
Another delicious and interesting sampling was from Park West Tavern/Loft in Ridgewood, New Jersey.  It was a White Asparagus Soup with Ramps, Spring Peas and with a white truffle drizzle.  YUM.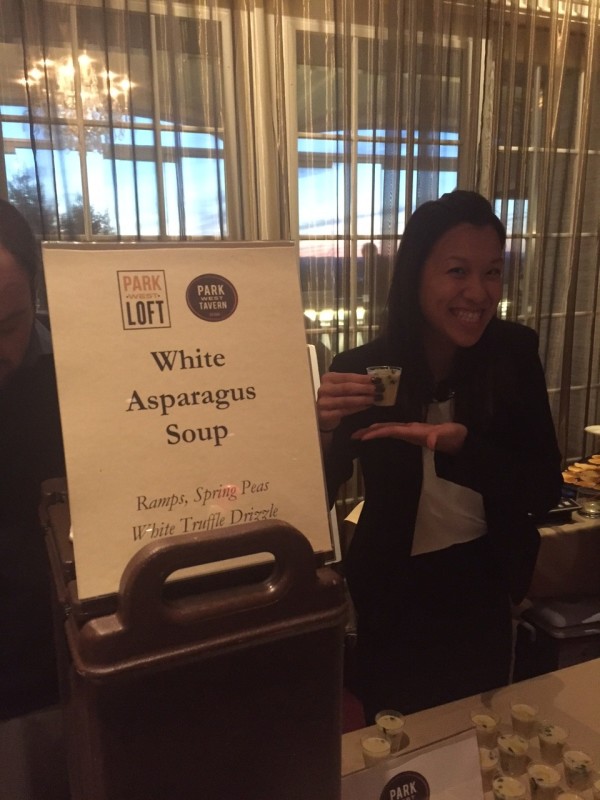 Finally, at the end of the night, we had the pleasure of chatting with Chef Jesse Jones about his experience as a personal chef to celebrities. Chef Jesse made Eric's favorite dish of the night, which was a spicy tomato based soup with giant shrimp.
Overall it was an amazing evening and always interesting to try different fare from various restaurants in the New York/New Jersey area.
And we spent SO much time catching up with the wonderful people who work at St. Joseph's Healthcare System while sampling the savory offerings that we completely forgot to check out the dessert area!
Next year…
{I was not compensated in any way for this post. We received 2 VIP tickets for review purposes only.  All opinions expressed here are solely those of the guest author.}