A few weeks ago, I received an email alerting me to a new sushi place opening up at Garden State Plaza in Paramus, New Jersey that was all the rage in the UK.
It's called YO! Sushi, the wildly popular International Japanese restaurant brand, which already operates 87 sushi establishments worldwide.  And now it's here in the Jerz.
Unfortunately for me, due to my food allergy (sesame seeds and sesame oil),  I was unable to check it out firsthand.  But I didn't want to miss out on the opportunity to share with you something cool and happening by way of the Bergen County food scene.  So I sent my trusty friends and mom a la mode contributors, Joe and Jennifer C. to go on my behalf.
Here is a snapshot of their experience with Yo! Sushi: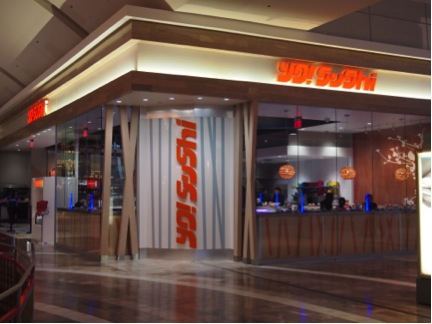 At Garden State Plaza in Paramus, NJ, head right next to the carousel to find Yo! Sushi. Looking in the window of this sushi place you will see the conveyer belt of sushi that is 280 feet long.  This place is modern and cool.  You walk in and see the sushi being made in front of you.  Everything is made fresh and tastes delicious.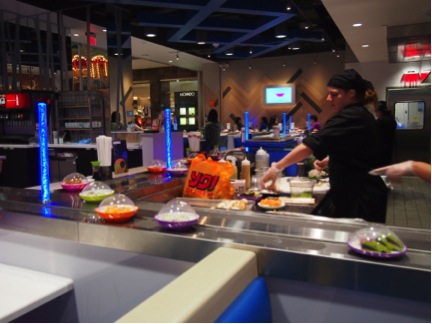 All the sushi on the conveyer belt is covered and time stamped and if it is not eaten by the time stamped, (Raw fish is 2 hours,  everything else is 3 hours) it is thrown out.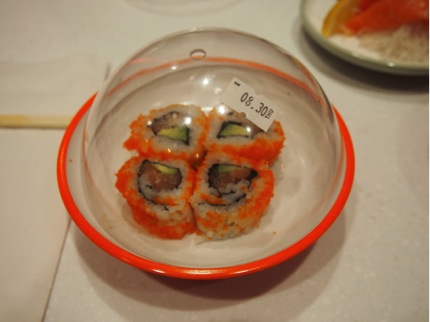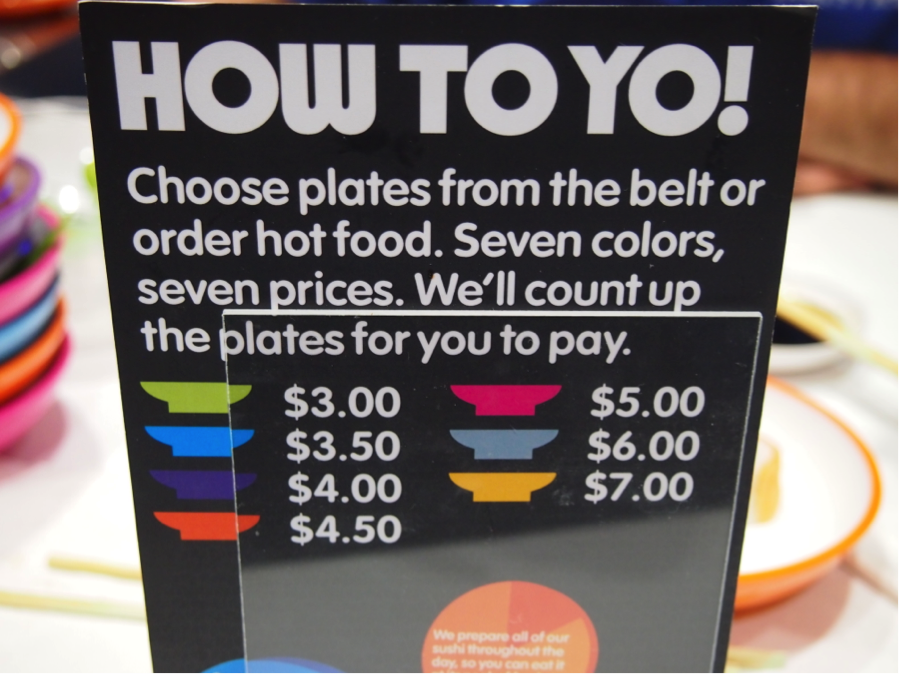 Not only are there many choices on the conveyer belt like seaweed salad, edamame, sashimi, sushi rolls, fruit, and desserts, but there are many other dishes you can order from a menu. These choices include tempura dishes, hot classics like Pepper Calamari, Chicken Kara Age, shrimp, chicken, or vegetable gyoza, soups, different kinds of rice and noodles, specials that include sashimi, nigiri, and gunkan, hand rolls, maki, salads, and desserts. The options are endless.
There is a waitress/waiter that comes to your table to take your drink order and asks you if you would like anything else from the menu.  They have your well known drinks like soda, juice, and water, but they also have special Japanese drinks that are a little bit of a puzzle to open, but with the help of the waitstaff, it was simple.  I tried the Melon, it was very good, different and sweet.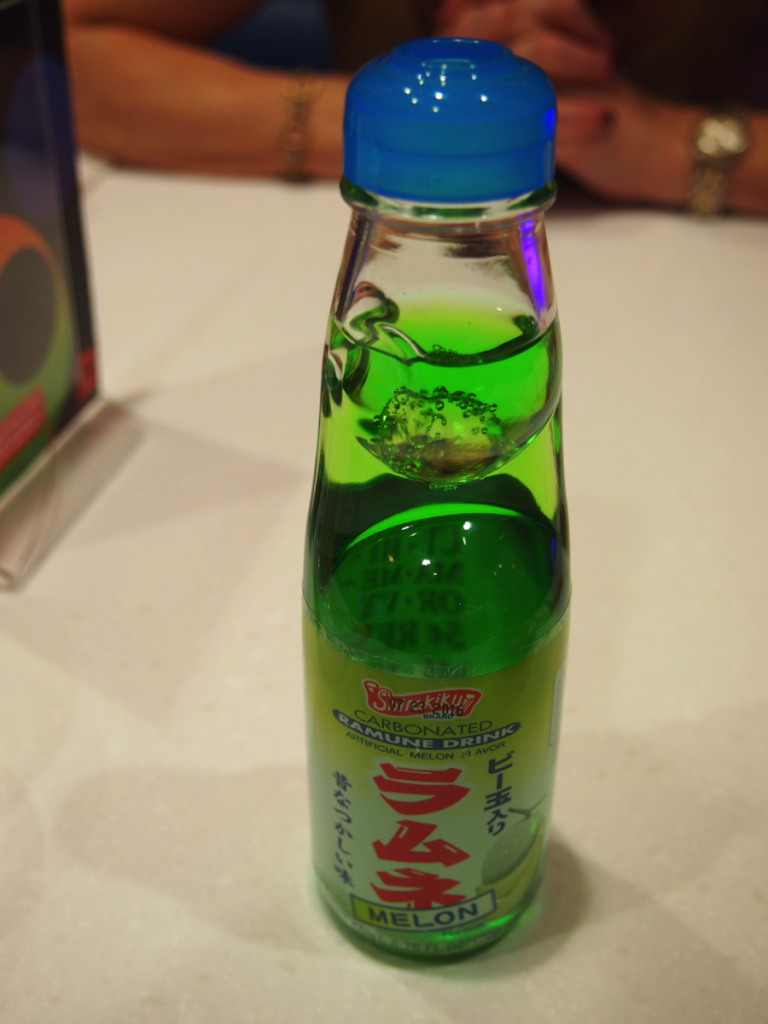 If you have questions about anything that you are eating and the waitstaff is not in the area, there is a button to push for them.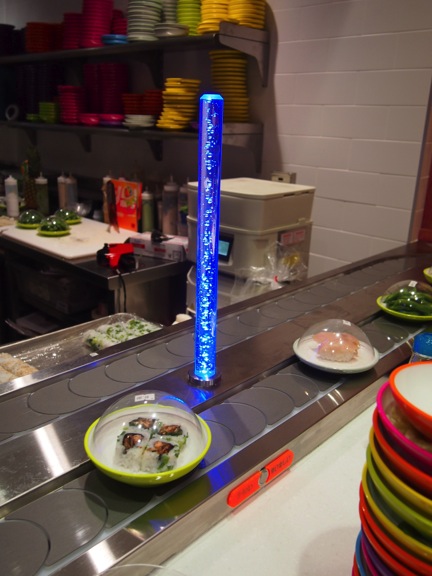 When the button is pushed there is voice that says what table they should go to.  The waitstaff was efficient and friendly.  There are different prices depending on the color of the dish or bowl you are taking.  You stack up your dishes and bowls and they figure out how much you owe by counting the different colors.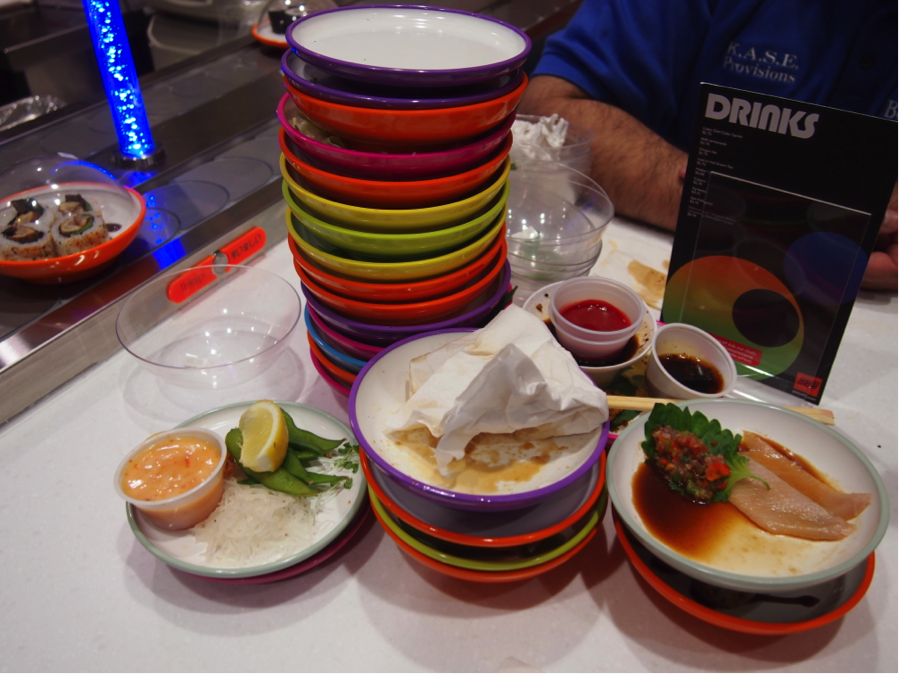 There are a few desserts to choose from, but a must have is the Mochi ice cream. This is a sticky rice cake filled with green tea or strawberry ice cream. I went with the strawberry, so tasty!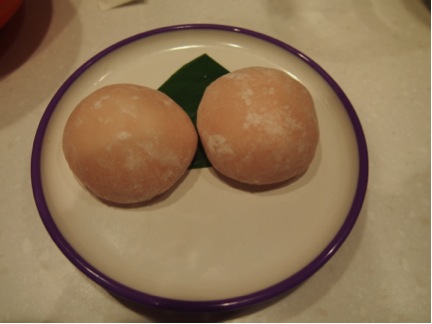 If you are in a rush and want sushi to go, you could do that too. There are plenty of choices here in their Yo! To Go section.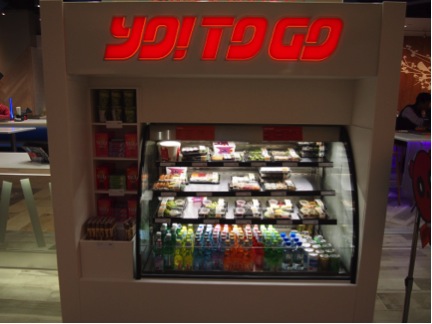 Keep an eye out for other Yo! Sushi restaurants opening in the US this year in Sarasota and Tampa, as well as The Mall at Short Hills, New Jersey.
For more info visit: www.YoSushiUSA.com
{I was not compensated in any way for this post.  Guest contributors received a complimentary meal for review purposes only.  All opinions expressed here are solely those of the guest reviewers.}