You can take the girl out of the fashion industry, but you can NEVER take the fashion industry out of the girl.  Today, I turn le blog over to one of my dearest friends, Darlene Fratello, with whom I spent countless hours working alongside as we pitched and lunched the fashion editorial community in New York City throughout the 2000s.  Dar not only has a passion for accessories, but an eye for style…in this special guest post, she talks about how all roads lead back to the fashion industry, and what hot new jewelry line has her simply smitten.  And as if she couldn't be possibly more amazing, she's giving away a fabulous jewelry piece!  Enjoy…
I heart candi
It's true, I do. All kinds, really. But, of late, I have traded in my Swedish Fish for another kind of candy or rather candi … Chloe and Isabel.
It came (almost) out of nowhere and took me by surprise. Putting behind me a rather challenging couple of years which found me living in another state and starting over in many ways, I was trying to think of how to really stay connected to not only my past, but my passions. You see, I spent over a decade working in product publicity for a large fashion brand. I love fashion. I especially love accessories. Back in 2009, when the economy took a turn, I found myself pursuing other career paths. And while I enjoy these other pursuits, one night as I was downloading from the day, I realized that I very much missed working in the fashion industry, that I simply was not ready to leave all that behind.
Call it kismet (I know, I know, but I felt THAT strongly about it at the time), the next morning as I was getting ready I heard a story on the Today Show about independent consultant companies and those that were reputable. Now, I am not certain, but in my mind one of the anchors mentioned Chloe + Isabel.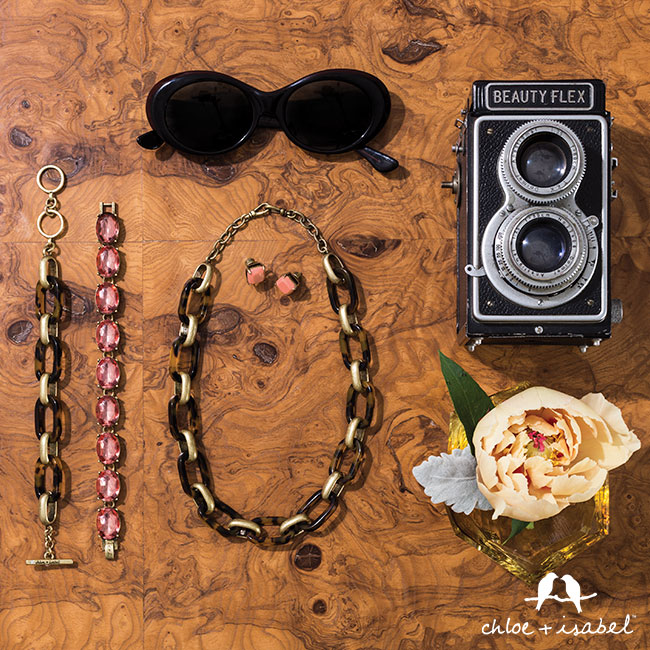 This played over and over in my head throughout the day. When I got home I figured I had nothing to lose, so I went to the Chloe + Isabel website and clicked on the "Become A Merchandiser" link. I had an interview set up. Yes, they interview you (mine was by phone).
A starter kit of glorious jewels later, and I was in business. Sort of. I hesitated. How do I "ask"? Who do I "ask"? "Asking" is so not in my nature. The solution, for me, was to just start wearing the jewelry. And then, people were "ask"ing me … where'd you get that necklace? And, so it REALLY began.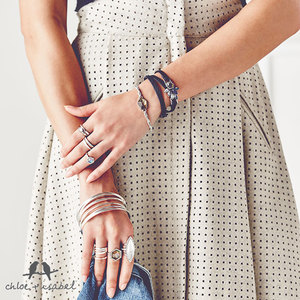 The beauty in this business, besides the baubles themselves, is the collaborative culture which empowers social shopping entrepreneurs to: "Be Creative. Be Confident. Be You." Now, that is something I could get behind. Well that, and the fact that the jewelry is beautifully designed with a lifetime replacement guarantee which underscores the company's commitment to quality. This gave me the confidence I needed. Rather quickly, I went from feeling a bit shy about mentioning my new venture to being proud to promote the brand, to wear the product and to introduce the collections to my family and friends. And, with that, my business was launched: www.candibydarlene.com.
Where this journey will take me, I'm not sure. What I do know is, I am glad I took that first step, because, each day I heart candi a little more!
 And now for a giveaway!  One lucky mom a la mode reader will receive this gorgeous statement necklace from Chloe + Isabel (a $42 value).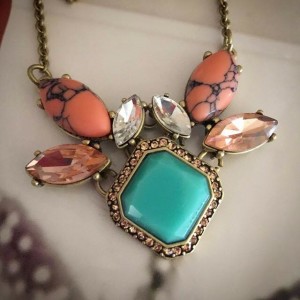 Enter to win: a Rafflecopter giveaway

Darlene Fratello is a communications and marketing specialist with a diverse background in public relations. Also a licensed cosmetologist, Darlene has worked in the fashion/beauty industry for over 25 years. Always a Jersey Girl at heart, Darlene, and her cat, now reside in the nation's oldest city, St. Augustine, Florida. 
 {I was not monetarily compensated for this post.  I received a complimentary jewelry piece for review purposes only.  All opinions expressed here are that of the guest author.}