Ready to get stuffed?
Thanksgiving is here next week, with many more opportunities to indulge in the days ahead. Holiday parties, quick bites at the mall food court, sips and dips with the neighbors and not to mention sweet treats and baked goods aplenty.
It may be hard to stay on track – or heck, even throw a meal together – during the hustle and bustle of the holiday season, but there are ways to manage to still put a home cooked meal together for the family that is healthy and tasty. And fast.
The key? Use good ingredients and take short cuts.
Through my partnership with Kings Food Market, I was able to try my hand at a quick weekend supper. We had spent the entire day running errands, getting holiday decorations in order, planning for Thanksgiving and the holiday hustle ahead and when I looked at the clock and saw it was 5pm, I knew dinner had to be a quickie but a yummy.
I put together a meal incorporating the following from Kings:
– Kings Spiralized Butternut Squash and Zucchini
-Kings Fresh Angel Hair Pasta
-Kings Organic Fresh Italian Parsley
-Kings Fresh Marinara Sauce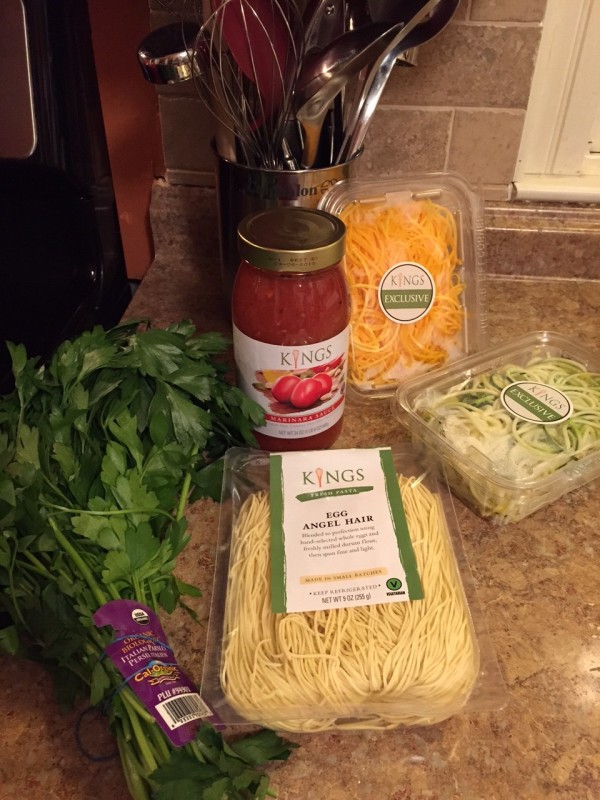 I could not contain my excitement to finally try "Zoodles" (Zucchini noodles spiralized). I realize half the fun is probably spiralizing them yourself….but I had no time for that and was THRILLED to see that you can just pop into Kings and purchase them already spiralized for you!
So here's what I did: I followed the helpful cooking instructions on the back of the Zucchini Noodle package and sautéed the spiralized butternut squash and zucchini in garlic and olive oil, which took exactly 5 minutes. While doing this, I had my pasta water going, so once it came to a full boil, I dropped in the fresh angel hair – which took exactly 2 ½ minutes to cook. That's the beauty of fresh pasta – and angel hair, specifically – very-minimal cooking time.
As the pasta was cooking, I added approx. half a jar of the Kings Fresh Marinara Sauce to the sautéed zoodles and let that come together a bit.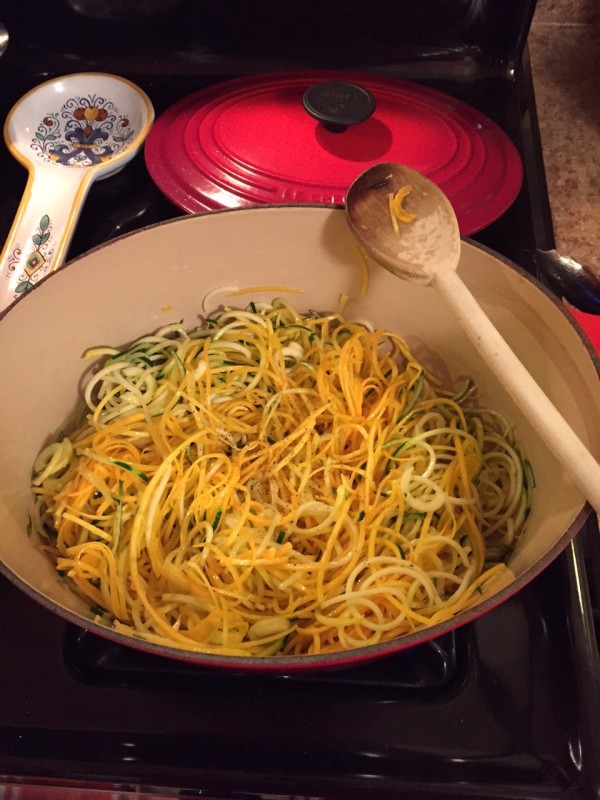 Once pasta was done, I drained it and served with the spiralized butternut squash and zucchini marinara. Be sure to garnish with fresh chopped parsley and a good amount of Locatelli Romano cheese.
I happened to have some panko chicken cutlets in my fridge, so we enjoyed those alongside the pasta dish, but this could have very easily been a meatless meal all the way.
The results? Happy tummies due to a healthy meal in minutes using super fresh ingredients.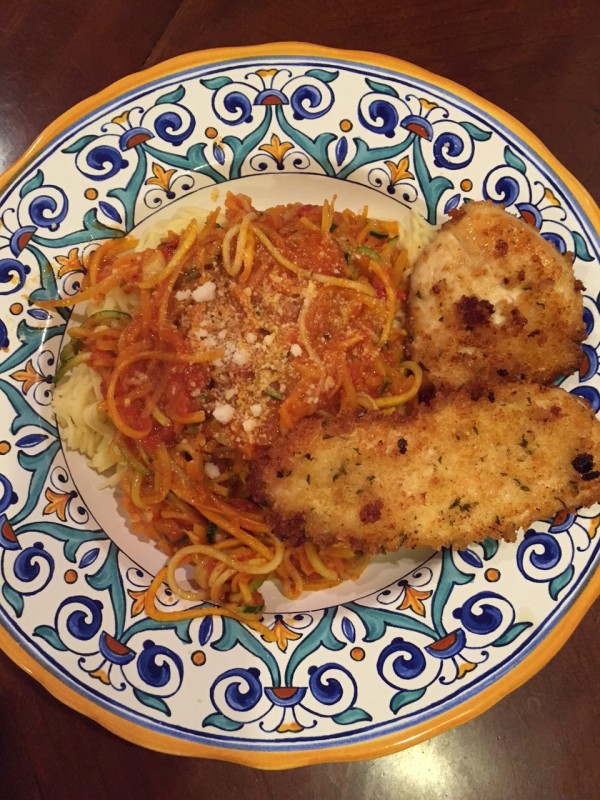 During hectic times, take the short cuts where you can to eliminate the stress and still feed your family well – even this Italian-American girl does use HIGH QUALITY jarred sauce from time to time. Let Kings spiralize the squash for you. Use fresh pasta instead of boxed variety to shave minutes off of cooking time there.
Ready for the short cut of all short cuts this holiday season? Let Kings cater your Thanksgiving! We've done it in years past and it's been a home run. Fresh, chef-prepared sides, a moist turkey, delicious pies – you can't go wrong. Visit your local King's or check them out online to learn more.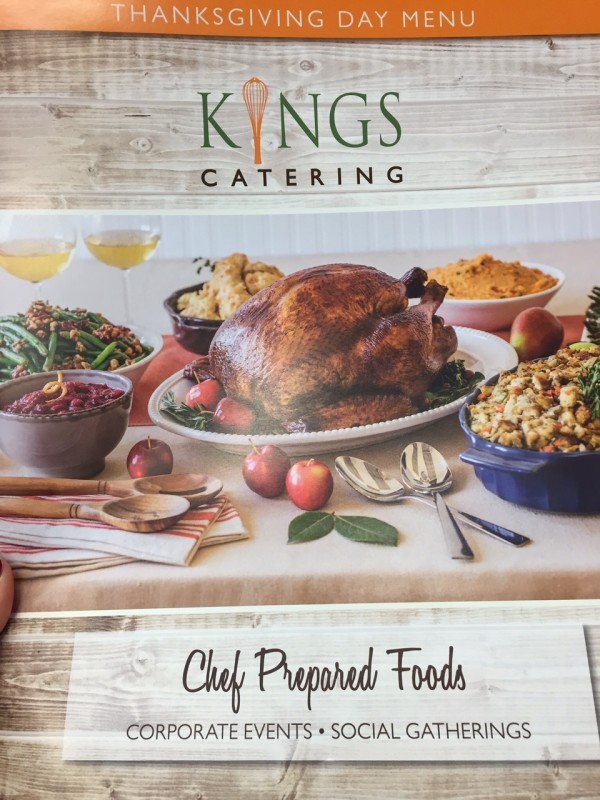 Happy Holidays!
oxox
-mom a la mode
{I am a brand ambassador for Kings Food Markets. Product samples and compensation were received for this post. All opinions expressed here are solely mine.}