Halloween 2014 was a hoot for the mom a la mode family, complete with parades, parties and lots and lots and lots of candy.
Festivities began just about a week before Halloween with a Monster Mash at our local YMCA for the kiddies and culminated with an extravaganza at the home of our friends — and consummate party planners! —  Jude and Mike for the adults last night.
Here are our Halloween highlights.  Would love to hear about yours, too — please share in the comments!
HALLOWEEN 2014 A LA MODE:
Let the "Ghosting" begin!  
This year, Roc received some treats from "The Phantom Pumpkin" — and was giddy with delight to "ghost" his neighbors late at night.
Monster Mash 
Roc received a very special invite to take part in the Wyckoff YMCA's Monster Mash, which was expertly put together by head of events, Leeann Alfonso.  There were giant blow-ups decorating a spacious gym, a face painting station, DJ, craft corner and spook-tacular props and lighting to set the scene as spooky/fun for the littles. Add in pizza, french fries, cupcakes and glow sticks and you've got yourself a winning formula for fun for a 4-year old!
Town Halloween Parade
A time-honored tradition — and I know most towns have this — a Ragamuffin Parade of sorts. The children in town began at Borough Hall and paraded down to the school, where a party awaited with music, munchkins, treats and fun!  Roc enjoyed meeting with a local fireman, who thought his costume was super cool 🙂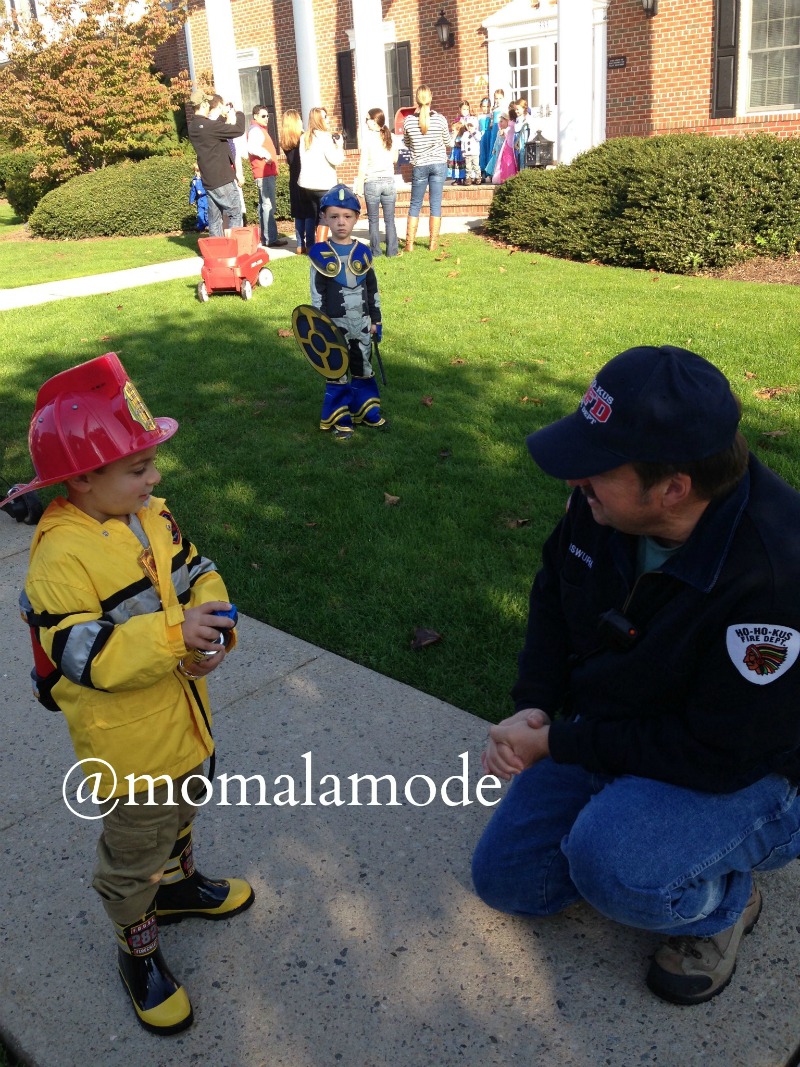 Our Jack-o-Lantern
Readers of this blog know that mom a la mode isn't too confident in her crafting skills. Cooking is my craft.
So you can imagine what our Jack-o-Lanterns have looked like in previous years.
This year, our friends Karen and Dylan gave us the tools to take our pumpkin carving to the next level. Through the use of sticker stencils and a tiny carving knife, this is what we created.  Roc was very proud of his work!  And frankly, so was I! 😉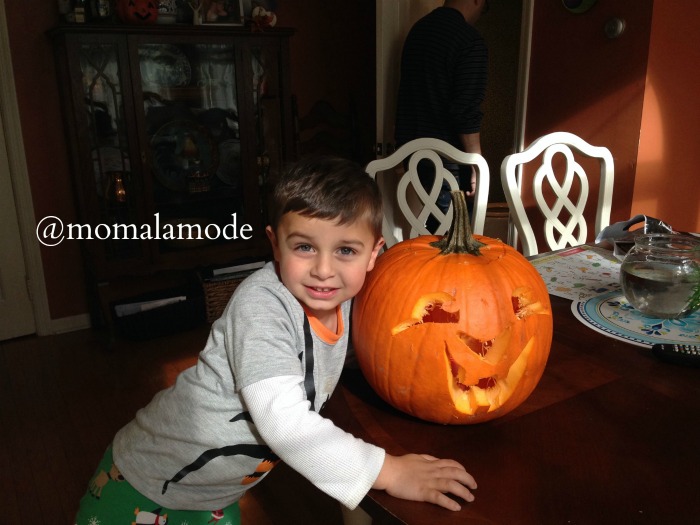 Pre-School Parade 
Roc's pre-school had an adorable parade and mini concert for parents and caregivers to enjoy.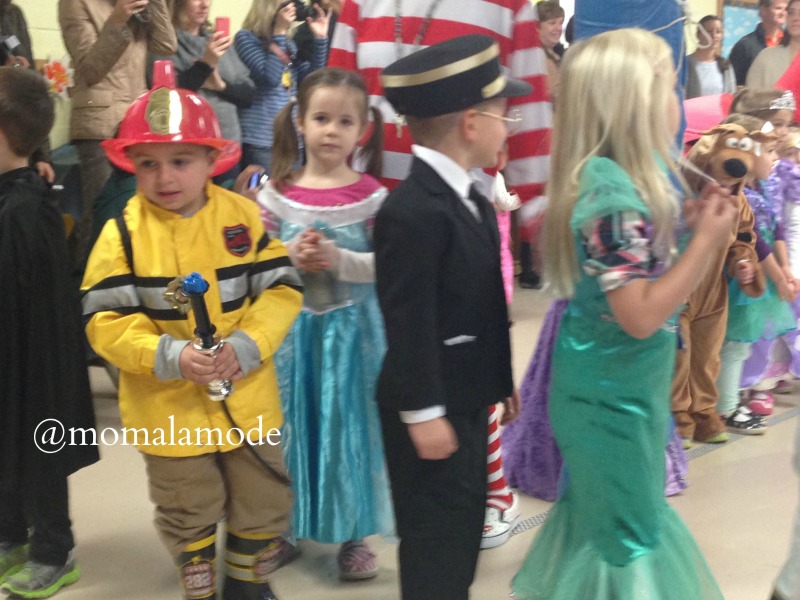 The Candy Stash
Over on the mom a la mode Facebook and Instagram pages, I teased this photo of our candy stockpile in preparation for our trick-or-treaters.  Many thought this was excessive and a bit of an exaggeration.  But after living on our block for 4 years, The Hubs and I have got it down.  We purchase close to 1,000 pieces of candy to feed the masses.
Yes, the masses.
Our home is steps away from our town's elementary school, and we are hit not only by the schoolchildren, but neighboring towns as well, who come to trick-or-treat in our "zone."
The police horse off the streets of my neighborhood and the CERT team is present to keep the peace and redirect cars.
It's both mayhem and magnificence all in one.  And we'd want it no other way.  The energy, the excitement — we LOVE it.
Halloween 
After an afternoon of trick-or-treating, what better way to round out the day than to gather at a neighbor's house for a Halloween party?!  Our friends Julia and Jordan hosted a family-friendly get together  complete with a bounce house, crafts, kid-friendly bites as well as yummy delights for the adults. A hit with the kids? Peanut butter and jelly sandwiches in the shapes of bats and ghosts as well as chicken nuggets and fries.  Adults warmed up to homemade chili, baked ziti and barbecue brisket.
Halloween Spooktacular at the Saoud's
How great was it to have Halloween on a Friday night this year?  While Friday was dedicated to the kiddies, Saturday of Halloween weekend was most certainly earmarked for the adults.  A much-deserved treat — with even a few tricks! — was provided to us adults by our friends, Jude and Mike Saoud, who threw the par-tay of the season on November 1st.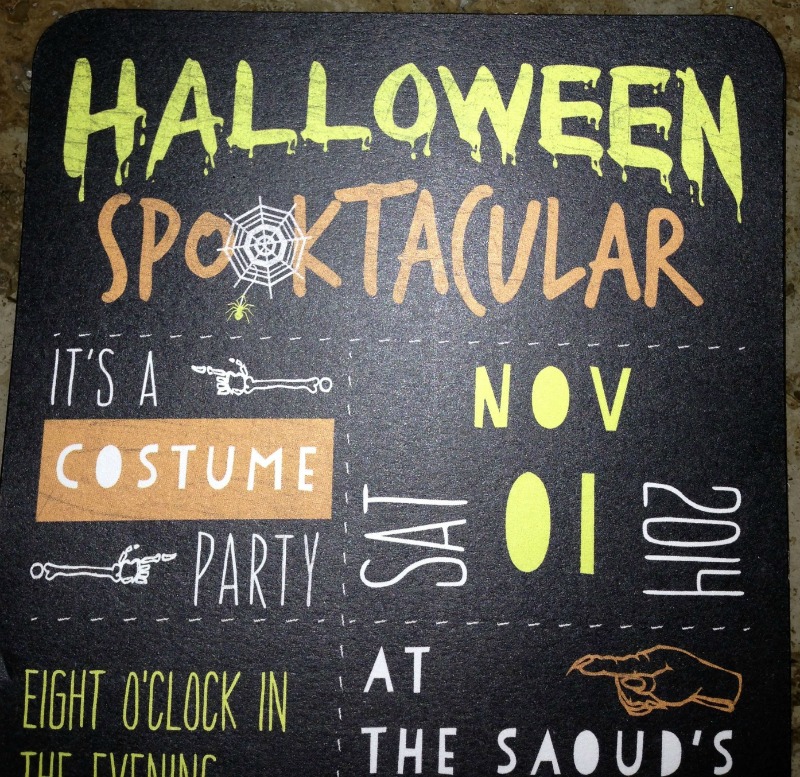 Guests were greeted with a signature cocktail, and as we made our way through the house to the tented patio, we were tempted by an extensive candy bar displayed on the kitchen island.
The costumes were really, really awesome. Pop culture references — from "Jake from State Farm,"  "Flo" and Teresa & Joe Guidice to the Naked Cowboy and Ron Burgundy made appearances as well as a mermaid, devil and some slightly scandalous get-ups that I can't really get into on this here blog 🙂
As for The Hubs and me….we stepped back into time.  To 1929 to be exact:
And here were some of the fantastic costumes of our friends: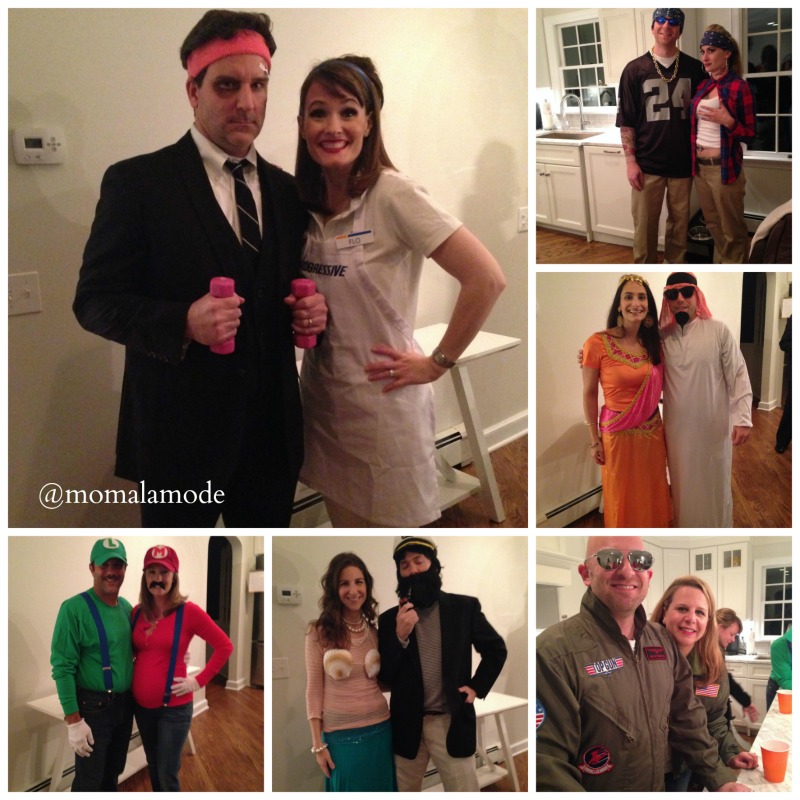 The makings of a great party? Good food, good drinks and good friends.  The party was catered by Lu Sheann, with mini bites of the most fantastic party foods being passed: spring rolls, philly cheese steaks on pretzel buns, sliders, hot dogs, adorable little cones of shoe string fries, mushroom tartlets, seared lamb, brats and Cuban sandwiches.
The tricks of the night were provided by the roaming magician — who wow-ed us with card tricks and cell phone mysteries.  A really nice touch to a Halloween party, for sure!
——–
So the holiday season is officially kicked off! Cheers to an extra hour in the day, thanks to daylight savings.
Be sure to comment and share the tricks and treats of your family's Halloween holiday.
oxox
– mom a la mode