Welcome to my very first video blog series!
I'm so excited to be partnering with fellow blogger and friend of mine, Debra Rutt of The Harried Mom. We've attended countless media events that showcase the latest products on the market – from toys, technology and travel to fashion, food and beyond. It's been so wonderful to get to know Deb and we've had a lot of fun navigating through this blogging world together.
Show and Tell with Deb & Lisa is our new monthly web video series, created from a shared passion of things we love the most: lively conversation, trying new products & experiences and sharing our first-person accounts of what's hot and happening on our blogs with our dedicated readers.
In our very first episode, we explore some of the newest toys to hit the market for Holiday 2014 for Pre-Schoolers and Young Children, ages 4-7 (the ages of our own children!)

Here's the scoop on the products I feature in our video:
LALALOOPSY BABIES DIAPER SURPRISE — Dolls magically "poop" collectible charms. Each doll comes with extra diapers and accessories- and a bracelet so girls can wear the collectible charms. Ages 4 and up.
Pricing: $29.99 Availability: Lalaloopsy.com, Amazon, Walmart, ToysRus, Target
HASBRO CARE BEARS — A throwback to the stuffed animals we grew up with!
Pricing: $2.99 to $24.99 Availability: Hasbro.com/CareBears Amazon, Target, Walmart
FABER-CASTEL/CREATIVITY FOR KIDS– CREATIVITY CAN — "Anything is Possible" with the creativity can! The can is filled with craft components that develop creative skills, imagination, problem solving and critical thinking to exercise your brain.
Pricing: $9.99 – $19.99 Availability: CreativityCan.com, fabercastell.com/creativity-for-kids
LITTLE TIKES SPLISH SPLASH SINK & STOVE — Real, working faucet. "Cook and wash dishes just like mom and dad, but with a lot more fun!"
Pricing: $19.99 Availability: LittleTikes.com- OR Amazon, Target, Walmart
OLAF'S IN TROUBLE GAME — Pop the bubble to save Olaf in this Disney version of the classic Trouble game!
Pricing: $14.99 Availability: HasbroToyShop.com, Amazon, Toys R Us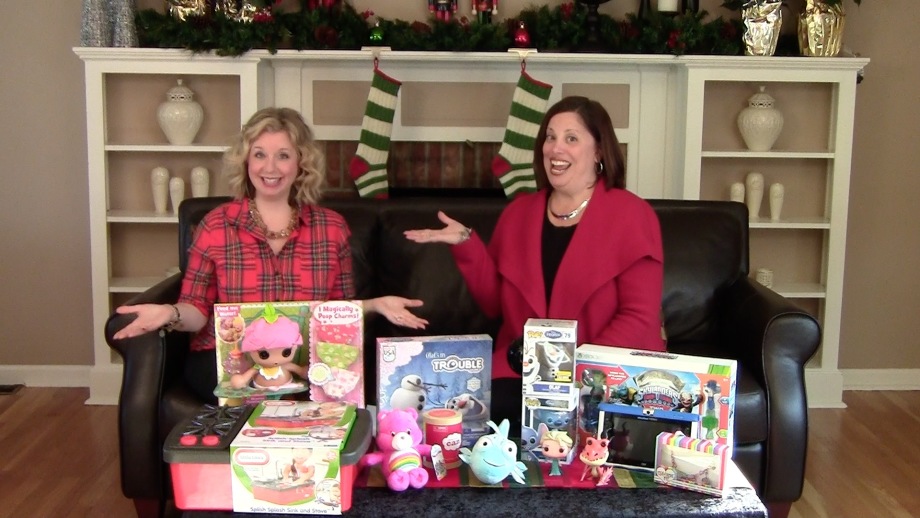 Be sure to head on over to The Harried Mom to get a full rundown on Debra's featured products.
And be on the lookout for our December episode: Holiday Gift Picks for Grown Ups!
A very special thanks to Tyler Rutt who wore many hats for this shoot: producer, line producer, cameraman, best boy, sound engineer and music director.  He did a fantastic job in putting this whole thing together for us.  We couldn't have done it without him!
Our good friend and uber-talented digital designer, Rita P. Cheng created our logo.  When we looped her in on what we were up to, she jumped right onboard to create a logo to help support our new endeavor. You can check out her work at www.ritapcheng.com
So what do YOU think?? What's the "must-have" gift on your child's holiday list this season? Share in the comments below.
Thanks for tuning in and happy holidays!
oxox
-mom a la mode
{I received product samples of items featured for review purposes only. All opinions expressed here are solely mine.}