This is a sponsored post.
DID YOU KNOW… According to the American Heart Association, 70% of Americans may feel helpless to act during a cardiac emergency because they either do not know how to administer CPR or their training has significantly lapsed? This alarming statistic could hit close to home, because home is exactly where 88% of cardiac arrests occur. Put very simply — the life you save with CPR is mostly likely to be that of someone you love.
Randi Colton, founder of FitChick CPR, recently found out that a student who took one of her CPR/AED classes offered throughout Bergen and Rockland Counties had to use the life-saving skills he'd learned. "He administered CPR and used a nearby AED and was able to save a person's life," remembers Colton. "The student knew exactly what to do — in fact, he pushed so hard and fast while doing chest compressions that he ended up breaking several ribs of the patient. A small price to pay since the alternative would have been death."
Recently, Colton herself had to use first aid skills when her best friend began to choke. "I was able to give her abdominal thrusts. Thankfully she was able to cough up the food she was choking on," she says.
What is CPR?
CPR stands for cardio-pulmonary resuscitation. This procedure is done when an individual's breathing or heartbeat has stopped due to a heart attack, electric shock or some other event. This emergency lifesaving technique includes both chest compressions and rescue breathing. Rescue breathing is used to provide oxygen to the individual's lungs and the chest compressions help keep the blood flowing while the heartbeat and breathing are being restored.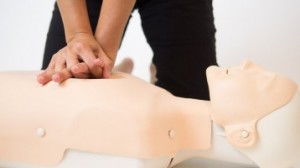 This is so important because even just a few minutes of interrupted blood flow can result in permanent brain damage or death. When CPR is performed, blood is circulated so that there is a flow of oxygen through the body to the brain and other organs. CPR should be continued until trained medical help arrives. CPR significantly improves an individual's chance of survival. If in doubt, know that it is better to give CPR to someone who does not need it than not to give CPR to someone who does.
Would you be able to respond and act quickly to help someone in distress like Randi's former student did?
FitChick CPR helps others learn how to save a life and be prepared for an emergency. "You never know when you might need to use your life saving skills," says Colton. "We offer a variety of courses to fit your needs from CPR certifications, CPR fundraising and CPR parties."

Colton has over 25-years of experience in CPR and First Aid training and has been teaching various CPR and First Aid courses for a decade.
Based in Rockland County, New York,  Randi is a certified American Heart Association Instructor through Valley Hospital in Paramus, NJ.  She offers a wide variety of custom classes in CPR, First Aid and AED (Automated External Defibrillator). If needed, these classes can be conducted in-home, business or school in the Rockland and Bergen County areas.
Colton is also certified through many national health and fitness organizations, including National Academy of Sports Medicine (NASM), American Council of Exercise (ACE) and Aerobics & Fitness Association of American (AFAA). She is also a graduate of Hilton Johnson Productions, Inc. HealthCoach Training Program. She resides in Sloatsburg, New York with her husband, two sons and their dog.
Randi Colton is the owner of FitChick CPR, which offers various CPR classes to individuals, businesses, and schools in Bergen and Rockland Counties. She offers fundraising with CPR and CPR parties. For more information or to schedule classes visit FitChickCPR.com or call 914-584-1253
{Information contained in this blog is intended for informational and educational purposes only and is not intended to be used for medical diagnosis or treatment or as a substitute for a medical diagnosis and/or treatment rendered or prescribed by a physician or your attending healthcare professional.}