Healthy eating is also on the brain for the Hubs. In this guest post, he shares measures he's taking to put his health first…without sacrificing flavor or taste. Take it away, Hubs:
You can't tuna piano…
I got a tuna problems and no way to solve them…
Ok, so there are a lot of tuna jokes out there, but the results of some recent blood work were no laughing matter. A few months ago, I went for an annual physical and our family doc sent me for labs – not good.
Cholesterol – high.
Triglycerides – high.
Ferritin – high.
A bunch of stuff I never heard of – high.
You get the picture.
When the doc called me in to discuss the results, he leveled with me. Had I been a year older, it would have meant going on a statin immediately. While ultimately, I decided taking a pill was the best thing to do, I also know that it's no substitute for diet and exercise. So I decided to commit to eating healthier.
Now, you can imagine with mom a la mode's delicious cooking, that watching what you eat is no easy task, despite the heathy meals she puts out.
Nevertheless, I set out to try and as part of that commitment to healthier eating, I've worked on incorporating more fish in my diet – sole, salmon, halibut, and tuna are just some of my favorites.
Tuna has been especially important because of how convenient it is on the go and at home – and as mom a la mode can attest, I'm always on the go.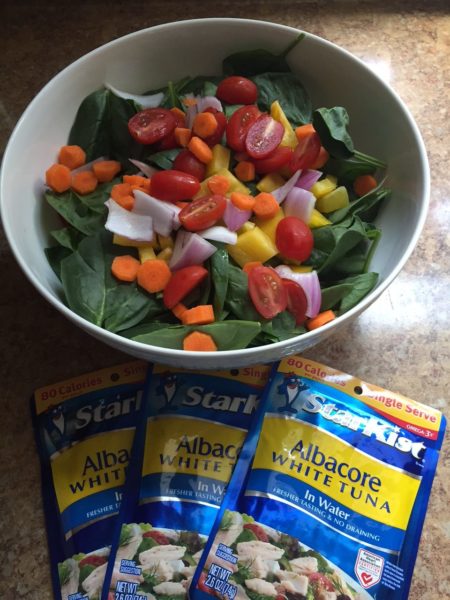 Tuna is low in cholesterol, low in calories, and contains Omega 3's. Starkist has been my go to brand of packaged tuna. I usually chose Solid White Albacore packed in water. Starkist makes really convenient pouches which make adding tuna fish to a salad, a cinch. I also enjoy making the tuna "Italian Style" by mixing it up with some capers and olive oil or even a tiny bit of chopped onion. Tuna also works well for me plain with Ritz or Saltine crackers. I scoop a little tuna on a cracker and voila, deliciousness. Super simple, it literally takes a minute or two to prep these items, and always fresh since the pouch is sealed until lunch or dinner. When I'm hungry, I opt for two pouches or even a larger can of tuna. On my last visit to the supermarket, I spent a little more time in the tuna aisle and was surprised by how many tuna products Starkist offers which I am planning to try.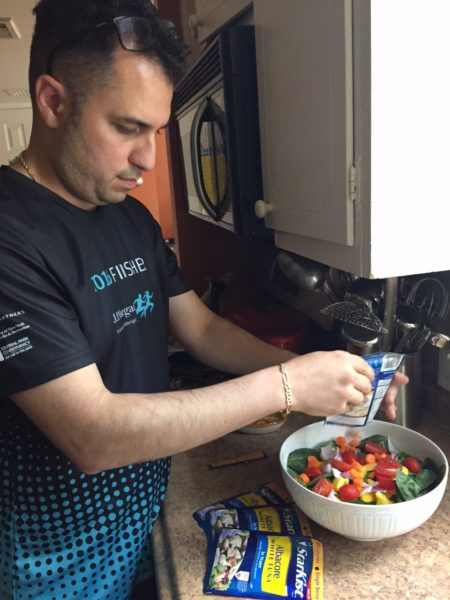 Disclaimer –  Consult your doctor for all health concerns. Product samples were received for review purposes only. mom a la mode is not a medical professional and this is not intended to provide any medical guidance.