Food allergies are no joke.
As someone with an adult-onset food allergy, I can relate to those who have to carefully check ingredients to ensure a reaction-free response. However, when a child has a food allergy, it's a whole other level of checks and balances and I can only imagine what parents must go thru to ensure their little ones are safe, happy and well-fed both in and out of their care.
So when the folks at The Sneaky Chef® sent me information and product samples on their line of No-Nut Butters, I felt it best to share them with a friend of mine from town, Jackie, whose toddler son has a peanut allergy. Here is what Jackie had to say:
—–
If you are nut allergy mom, you can probably relate to the fact that finding nut alternatives that actually taste good, are toddler approved and not full of fake ingredients is a CHALLENGE.
I was asked to try this Sneaky Chef® Chocolate No-Nut Butter and provide feedback and I must admit when I saw it was made of peas I gave a little eye roll.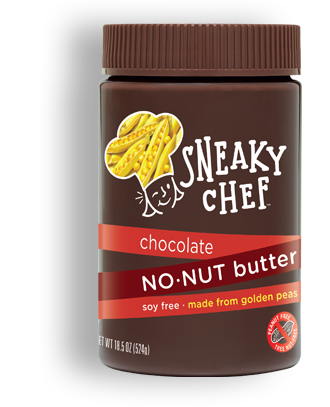 But I have to tell you, this is AMAZING. Both my 3.5 year old and 16 month old loved it (and have been asking for it every day since!) It's an amazing alternative to Nutella with a rich chocolate flavor that even I was enjoying! We spread it on toast with our breakfast and dipped apple slices in it after lunch for a treat. This will definitely be a staple on our grocery list and I am SO excited that I have found another delicious nutritious nut safe treat for my son!
——
Here's the scoop on The Sneaky Chef® No-Nut Butter:
Sneaky Chef® No-Nut Butter is an award-winning delicious nut-butter alternative made from naturally sweet and "nutty" tasting golden peas, but without a trace of peanuts, tree nuts, seeds, or soy.   That's right, GOLDEN PEAS!  That means it's made from pea protein – the high quality, plant-based protein source that is getting tons of nutrition buzz these days.  Sneaky Chef No-Nut Butters are produced in a nut-free facility and are all natural, gluten-free and contain no high fructose corn syrup, no hydrogenated oils and no artificial colors or flavors. Sneaky Chef No-Nut Butter is available in two varieties, Smooth and Chocolate – both available in 18-ounce jars and Smooth in convenient grab-and-go cups.  Sneaky Chef No-Nut Butter is an indulgent peanut butter alternative that is so good, everyone will love it, allergies or not!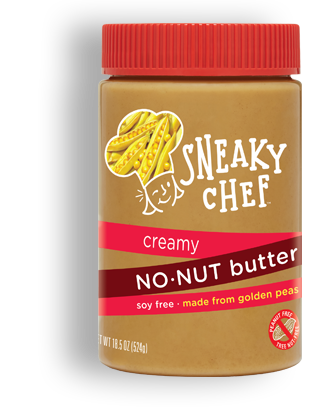 For more information on where to buy and to download a $1 off coupon, click here.
Please comment below if you've sampled The Sneaky Chef No-Nut Butters or have other no-nut alternatives your child enjoys.
oxox
-mom a la mode
{I was not compensated in any way for this post.  Samples were provided for review purposes only. All opinions expressed here are solely mine and guest contributor.}