We've had a VERY hectic start to our school year – a new school for Rocco. A new schedule, with flag football and activities several times a week in the afternoon. And to top it off, the hubs has been on a heavy international travel schedule.
As much as I love to cook, there have been more than a few instances over the past 2 months that getting take out for dinner was just the easiest route to go. And I suspect there are many of you out there who are in the same boat with the crazy schedules our families all lead.
Let's face it – by Thursday, it's time to hang up the oven mitts.
Enter No Fuss Family  — a Bergen County, New Jersey based company that provides healthy, wholesome dinners to those looking for a weeknight reprieve.
I was already familiar with No Fuss Lunch – the fresh, healthy, made-from-scratch lunch service that boasts no GMOS, no white flour, no nuts and no high fructose corn syrup in their meals. Many school districts in my Bergen County, New Jersey community contract their lunch service out to No Fuss Lunch, which is so fantastic – they're serving thousands of kids amazingly fresh, handcrafted meals each week! And I 'm just thrilled that starting next year, my son will get to enjoy their daily lunch deliveries to his school (Kindergarteners aren't eligible for the No Fuss Lunch program in our district, so my boy has to wait until 1st grade).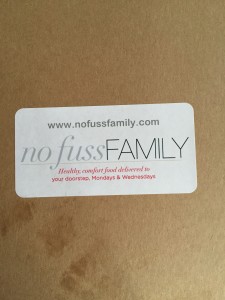 As an extension of No Fuss Lunch, founder, Gabriella Wilday decided to offer dinner delivery service via No Fuss Family, twice a week on Mondays and Wednesdays. So now, the entire family can experience the goodness around their kitchen table!
And Gabby has truly started a movement – a "modern comfort food" movement, where despite our hectic schedules, modern comfort food means truly taking care of your family with ultra-healthy, intelligent choices, ease and delightfully delicious options. All of the flavor, none of the FUSS (hence, their name, No Fuss Family).
The menus are posted online the week prior with the menus and ordering and payment are handled online. Order by 10 AM on Monday and Wednesday and their green NO FUSS reusable bag magically arrives on your doorstep between 3 and 5 p.m. You don't even need to be home for delivery!
What's really fantastic is that their meals are easily curated to please all the picky eaters and those with allergies. They can accommodate gluten-free, vegetarian, meaty, organic and non-GMO, etc.
A few weeks ago, my family had the chance to try out No Fuss Family – here is what we ordered:
Organic Raw Veggies and Dip
Cage-Free Grilled Lemon Chicken
Classic Tossed Salad with Balsamic Dressing
Whole Wheat Chocolate Chip Cookies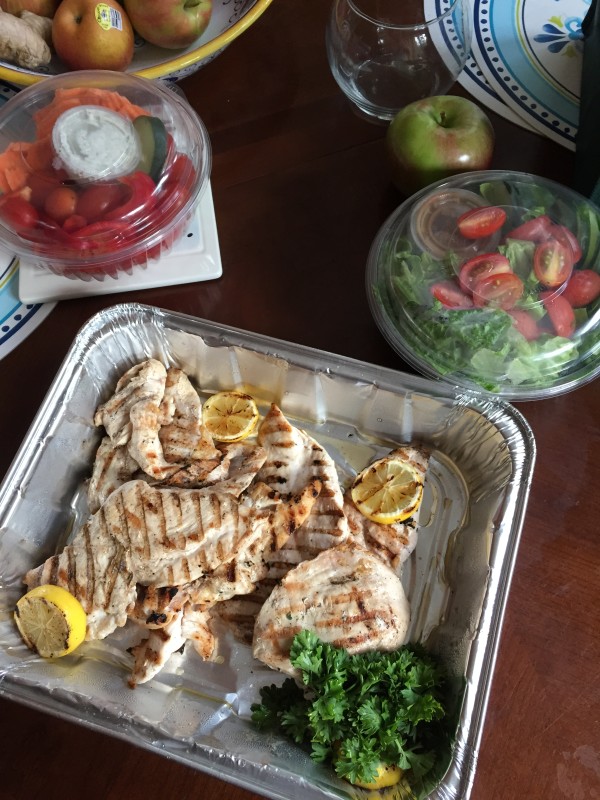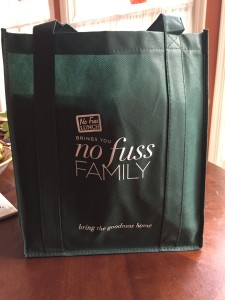 As promised, the green No Fuss Family tote showed up on my doorstep around 4:30pm. Everything was neatly packed and came with an instructions sheet with reheat instructions, although our chicken was completely ready to be eaten as it was warm upon delivery.
I was highly impressed with the quality, freshness and quantity of our order. The food was so fresh that it lasted for 3 days after the day we ate it (I had a lot of leftovers!)
I felt really good about saying "YES" to Roc when he asked to have a cookie — No Fuss's chocolate chip cookies are made with whole wheat flour and all-natural ingredients.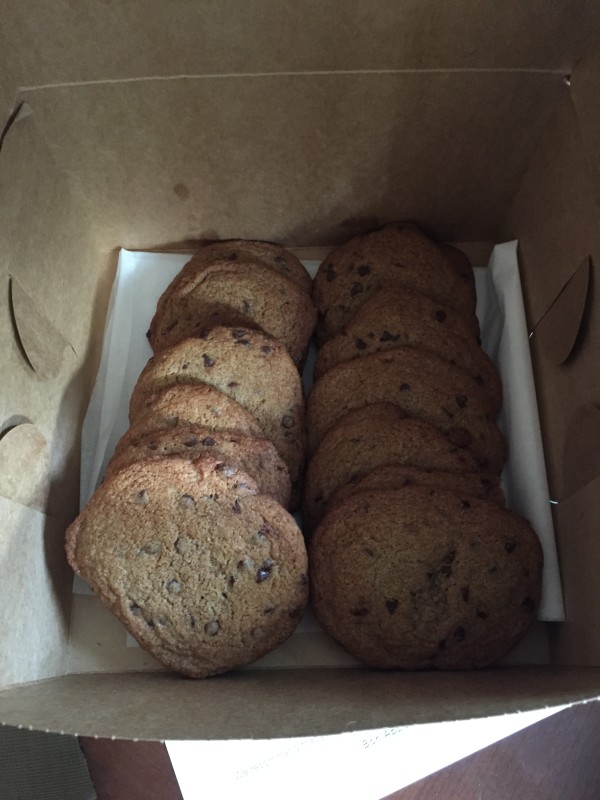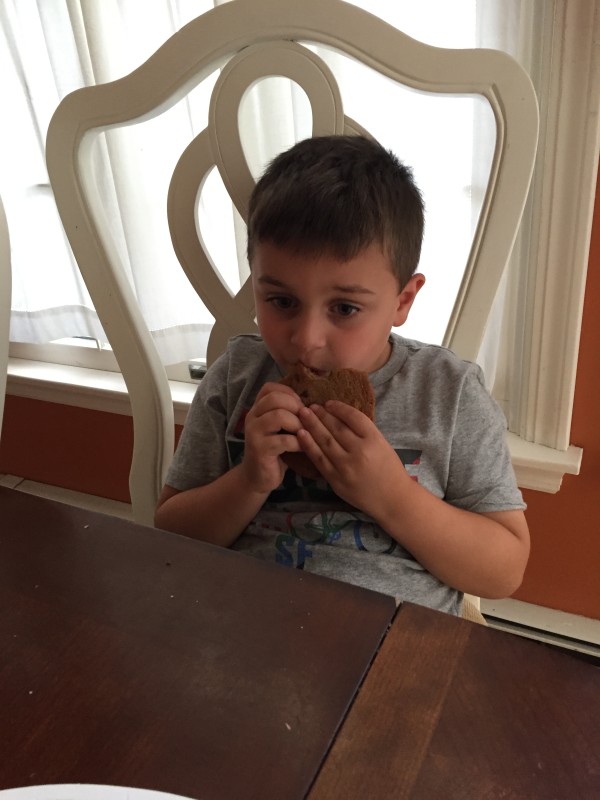 Take a look at their Monday and Wednesday offerings and consider giving No Fuss Family a try — they also offer an option for "gifting" a meal, which is perfect for a family who just had a baby, experienced a loss or who maybe did something super nice for you and you're looking for a way to say "thanks."
Visit No Fuss Lunch and No Fuss Family at: http://www.nofusslunch.com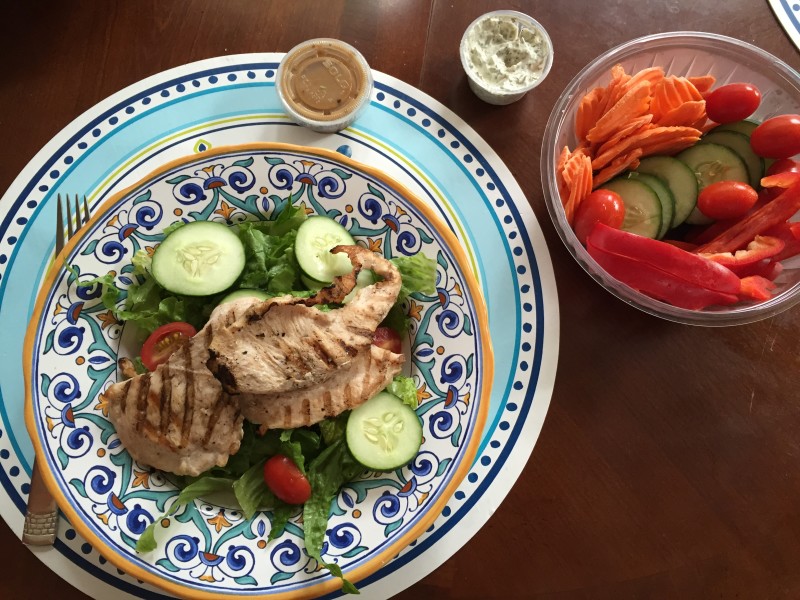 Tell them mom a la mode sent ya 🙂
oxox
-mom a la mode
{I was not compensated in any way for this post.  We received a complimentary meal for review purposes only.  All opinions expressed here are solely mine.}