By now, a few days before Christmas, hopefully your tree is trimmed, your stockings are hung and your presents are purchased.
The letters to Santa are written and mailed?
Now how about having Santa HIMSELF respond back?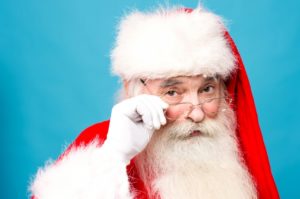 This is possible through an online SantaGram — it's a personalized video tailored to your child(ren) based on little tidbits of info you share with the "elves" who power the SantaGram operation.
Imagine my surprise when I received an email with "Santa Claus" in the FROM line! (I felt like I was six years old again lol)
I'll share with you the video Santa sent my kids, Rocco and Sienna, to give you a sense of what you can expect:
Now – you still have time –– the deadline to place an order to guarantee delivery before Christmas is December 22nd at 9pm EST. The folks at SantaGram want me to tell you that  "Santa will say pretty much whatever their kids need to hear!  And for $19, that's a bargain if it causes the kids to be well behaved for the rest of the Holiday season!" #truth
To place order, visit: http://www.yoursantagram.com
Happy Holidays!
ox
mom a la mode
{I received a complimentary Santa Gram in exchange for this post – all opinions expressed here are solely mine.}