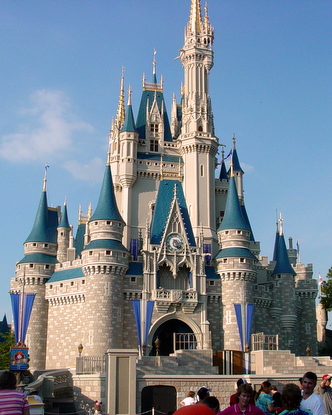 We are preparing to head to the Happiest Place on Earth…Disney World!
In the summer.
With a toddler.
I know what you're thinking – we're nuts, right?  Well, we very well may be. But thankfully, we're the best kind: mixed nuts!  Yes, the whole family – both sets of grandparents, both brothers, fiancée, and even our great-aunt are all coming along to our trip to Disney World.
And the fun doesn't stop at the Magic Kingdom. We're also hopping on the Disney Dream out of Port Canaveral for a cruise to the Bahamas. 
Jiminy Cricket, this should be a fun time!  (Let's make drinking game out of how many Disney references I can drum up in this post, eh?)
I'm pretty excited about the vacation. Would be crazy not to be. 
But I must confess:  I am also preparing for the worst.
I am praying that my temperament is more that of Snow White and less of the Evil Queen [drink!] throughout the duration of this trip.  But something tells me that between the sticky humidity of Florida, coupled with a large group that has never traveled together and a 2-year old making his maiden voyage on an aircraft AND cruise ship (and not to mention, seems to still be petrified by adult-size furry characters), the Cruella DeVille in me is bound to arise [drink again!]
So to keep Cruella at bay, here's what I'm doing: I'm under-packing and over-preparing.
Gone are the days of "options" and a suitcase just for shoes and accessories.  I will likely be wearing the same stately navy v-neck shirt and coral shorts for the length of the trip. Between all of the diapers, gear, toys, etc. that Roc requires, I'm praying that I don't have to pay overage fees for baggage.
In terms of over-preparing, I'm speaking to anyone that will give me the time of day who has:  
a. traveled with a "spirited" 2 year old on a plane and/or cruise ship 
b. been to Disney [in the summer] and came back alive
I am scouring the blogosphere, am on a first name basis with the Disney Cruise desk agent and have IPad apps, a working spreadsheet of tips, and handwritten lists up the wazoo.
I'm hoping this will help keep things organized, ensuring we can have the hap- hap- happiest vacation in the land where dreams come true.
And now here's where you come in – please, please for the love of Winnie the Pooh [drink once more!], if you can provide any advice on traveling, sleeping, dining, etc. with a 2-year old, it is greatly appreciated.  Also welcome are any product recommendations, apps, or tips on navigating Disney, Castaway Cay or Nassau with a 2 year old. Seriously, I'm all ears [ok, one last drink…really!] ….
To say thanks, I'll bring back a souvenir for one randomly-drawn lucky contributor….you can post your thoughts and comments in any one of these ways to be "entered to win" before July 1st :
-Add your comment to this blog, below
or
-"Like" and Comment via my Facebook page
or
-"Follow" and Tweet me @momalamode using #DisneyTips to tag your comment
And you get extra points for following this blog via email sign up and/or through following my Twitter handle @momalamode  🙂
oxox
-mom a la mode