March is National Frozen Food Month, and continuing with our theme of frozen foods we love at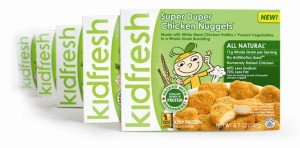 mom a la mode, let's talk about Kidfresh.
If you follow this blog and you follow me on social media, it should be NO surprise that we're over the moon for Kidfresh.  In particular, we especially love Wagon Wheel Mac n Cheese.  If my son had his way, he'd have Kidfresh Wagon Wheel Mac n Cheese every single day for lunch and dinner. (I'm sure the folks at Kidfresh would LOVE that!)
It's hard to NOT give in to Roc's request when you know that his beloved frozen kids meal is jam-packed with all natural ingredients, a full serving of veggies blended on into the cheese sauce and other wholesome goodness.  Not to mention that it's a cinch to heat up in the microwave and makes for a super easy school lunch (just heat in the microwave at 8:15am before heading off to school, pack in Thermos, and it's the PERFECT temperature for him a few hours later at lunch) that is healthy and nutritious.
You can visit the Kidfresh website to find their full product offering and see what your child might enjoy.  There's also a store locator to tell you where you can purchase.  In the NY/NJ Metro area, Kidfresh can be found at King's Food Markets, Stop & Shop, Pathmark and Whole Foods to name a few. But the brand is most certainly sold nationwide.
To celebrate National Frozen Food Month, one lucky mom a la mode reader will win 10 coupons (a $40 value!) worth of FREE Kidfresh Meals. 
To Enter: Simply comment below what Kidfresh meal variety you think your child would enjoy most.
And of course, stay in touch with Kidfresh by visiting them on Facebook, Twitter, Pinterest & Instagram @KidFreshFoods.
A winner will be selected by Sunday evening, 9pm EST.
oxox
-mom a la mode
{I received Kidfresh coupons for review purposes of the product.  All opinions expressed here are solely mine.}