Hey, there…remember me? 🙂
You haven't heard from me in a little while because of a sweet new addition to our family – Sienna Katerina was born on December 1st. To say that we're over the moon in love is an understatement. And Roc is elated to have a new sibling and marvels at her "little parts." He squeals with delight over her tiny ears, toes and fingers. And finds it fascinating that she has – his words – a "little skeleton." It's especially endearing to hear him ask if he can marry his sister because he loves her so much (I told him he can be in her wedding party one day 😉
The many months leading up to Sienna's birth were quite transformative. For me — growing my belly month by month. For my home — undergoing a 3-bathroom renovation that took 3-months longer than originally anticipated, as well as FINALLY deciding what to do with that 4th bedroom. We painted it pink, of course! And had a gorgeous cherry blossom mural painted on the crib wall thanks to the talented Sabrina of Sabrina's Murals (I found her on Facebook!)
Another reason why I haven't been here on le blog in a while is because my consulting practice saw an uptick in projects. I've been fortunate to be a part of the PR team of international tennis champion, Maria Sharapova, for over a year. Did you know that Maria's candy company, Sugarpova, launched a line of premium chocolate bars? The Dark Chocolate variety is especially awesome. This work has made for a sweet '16 for sure!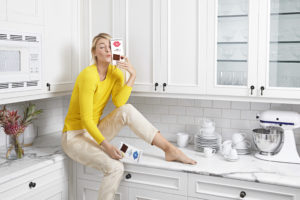 The most rewarding project, however, has been the birth of my little girl.
A GIRL!!!
Beyond excited for all that is to come with this little love. And you can bet I'll be sharing our new adventures, new products we're trying (you'd be amazed at how the baby landscape has changed in 6 years – even the bottles I used with Roc are now different!) and new experiences here on mom a la mode.
In many ways, I feel like a first-time parent again – there is a very much intended 6 ½ year gap between Roc and Sienna. I'm grateful to the good Lord above that my body cooperated with what my mind and heart wanted – a nice big space between siblings. Thankfully, instinct has kicked in and that dusty part of my brain dedicated to baby care that hasn't been used in a while fires up when I need it to. I do recall much more than I initially gave myself credit for.
More to come very soon!
oxox
mom a la mode