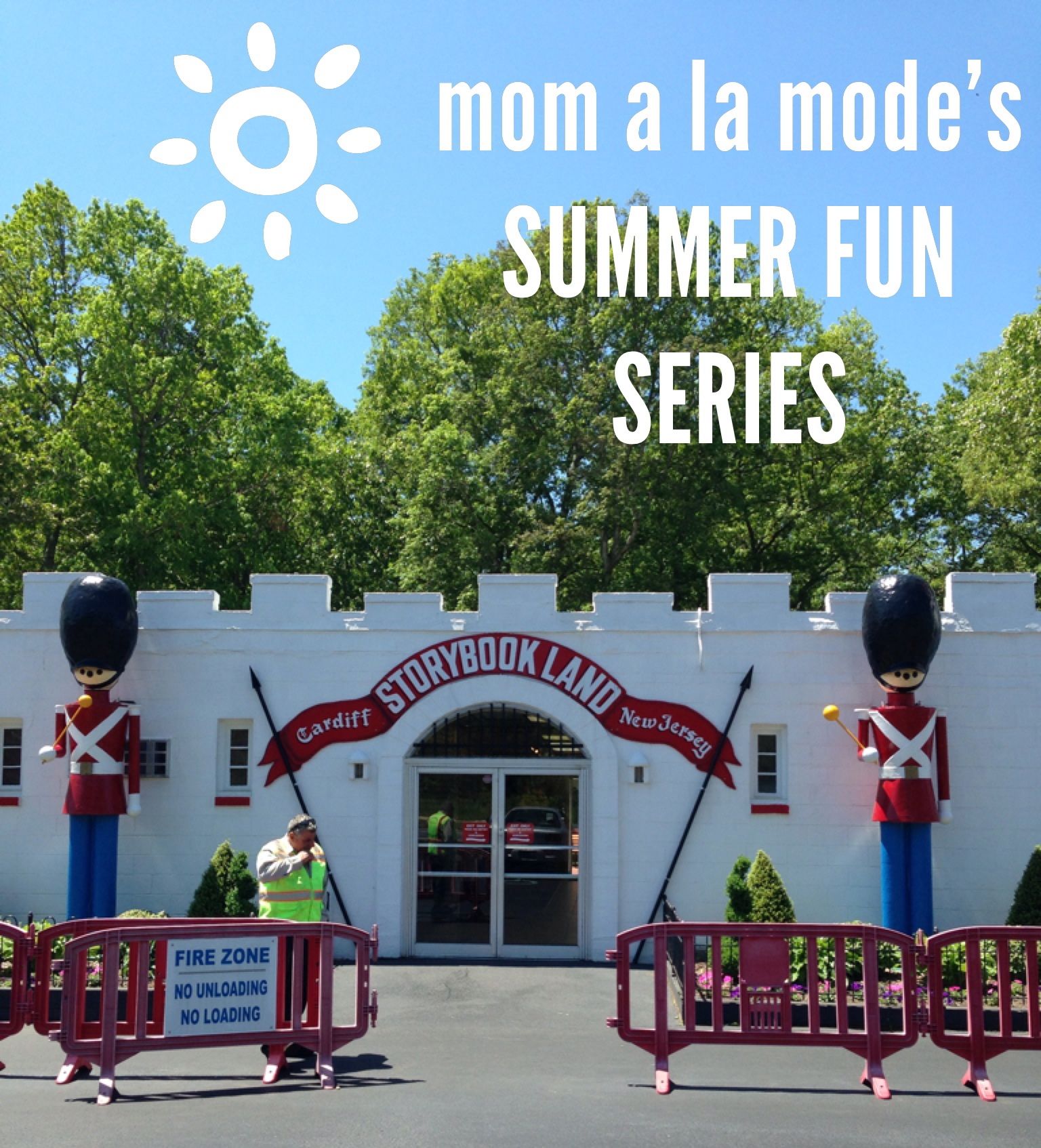 This is the first in a series of posts chronicling mom a la mode's various family-friendly day trips, amusements and experiences of the summer.
Once upon a time in a land far, far away was a wondrous little amusement park that catered exclusively to the interests of good little boys and girls.
It's called Storybook Land, and it's located in South Jersey, just a few miles outside of Atlantic City in Egg Harbor Township, New Jersey.
My family and I were in the Atlantic City area over Memorial Day Weekend and decided to take a "Sunday Funday" to the amusement park with my toddler son, Roc.  We could not have asked for better weather — clear, crisp and perfectly comfortable for ambling through the manicured paths and checking out the rides and attractions of Storybook Land.
This is an exciting year of rides for Roc — which is why I'm devoting a whole little series around our summer adventures. He's officially 36 inches tall, which means that he can ride alone on age-appropriate rides at many amusement parks and fairs.  I've figured out the science of being cautiously excited for him as he spins around a flying dragon ride or honks away on a motorcycle — me, all white knuckled and voice high-pitched, cheering him on — in between gasps of "hold on, honey!! hold on!!!" all while capturing videos of his little escapades on my trusty iPhone.
But back to the story…the Storybook Land story.
I'll spare you a history lesson, but basically the park has been open since 1955 and since then has been keeping the spirit of childhood alive in an entertaining and educational atmosphere set over 20 acres. And as you can tell by the name, the park is themed around classic nursery rhymes, fables and fairy tales, making for a sweet and recognizable experience for the little ones and older folks alike.
We entered the park and my son was giddy with delight and couldn't decide what to go on first: the old tyme cars,the tea cups, the train, the tram.
The tram won.
Slow and steadily, the employee-driven Storybook Land tram snaked us through the perimeter of the park and gave us a sense of how we wanted to navigate our time.  Immediately after the tram, we headed over to the Old Tymers (cars), followed by the J & J Railroad, Jumping Jumbos and then took a little time out from the rides to grab some popcorn from the Caboose Cafe and marvel at some of the attractions like The North Pole and Santa's Workshop (my son is obsessed with Santa all year round!)
My mom, husband and I agreed that Storybook Land is one of the best maintained local amusement parks we've been to in a while, staffed by overwhelmingly friendly and accommodating employees who ACTUALLY want to be there. From the cheerful tram driver to the happy popcorn lady, there wasn't a sour puss to be found. (For a hot minute, we were reminded of our time in Disney World, in terms of park cleanliness and customer service. But make no mistake — as glorious as this little park is, it's not Disney.)
What's great about Storybook Land, though, is that it's not overwhelming. Everything is walkable — no need to take a "sky ride" or shuttle to reach different areas of the park. It's designed with the legs and attention span of a toddler in mind.  And to that point, my family and I agreed that while the PERFECT place for my 3 year old son, Storybook Land likely ages out once your child hits 7 or 8 years old — but that of course, depends upon your child.
We spent a total of 2.5 hours there, which was the perfect amount of time for my little guy.
Roc's favorite rides?  The Rock Spin Roll, Old Tymers and the J & J Railroad.  But he was equally as fascinated with the many attractions.
Tips:
Heading to the Jersey Shore for a week or two?  Consider popping by Storybook Land for a break from the beach on an overcast non-beach day. Or, keep the park in mind as an alternative amusement to Boardwalk attractions that are closed up post-Sandy.
Pack a picnic lunch. Storybook Land has ample partially covered picnic area space and welcomes outside food and drink (but not grills or alcohol).
The Old Tymers ride had a pretty long wait due to the logistics of how the ride is set up. Plan to do this one first.
Take the J&J Railroad in place of the Tram — you'll cover the same ground in a more exciting way for your kiddie.
Have a food allergy? All of the cafes have allergen binders complete with food labels for everything served — the staff will be more than happy to show it to you.
Lastly, I'm told that Storybook Land does quite a spectacular holiday experience at both Halloween and Christmastime.  Here are some photos:
Stay tuned for our next adventure in this Summer Fun Series. And do feel free to share your thoughts and comments below on Storybook Land, or another family-friendly amusement that you've been to (or hope to go to this summer)!
oxox
-mom a la mode
{I was not compensated in any way for this post.  All opinions expressed here are solely mine.}