Healthy eating has been on my mind lately.
Admittedly, it should probably ALWAYS be top of mind, but 5 months postpartum, you can bet my antennas are up on ways to shed the baby weight, keep the heart healthy and the mind sharp.
Sleep is a bit splintered these days, too, so making good food choices doesn't always come easy.  I'd be lying if I told you I didn't inhale a quarter of a sleeve of Girl Scout Shortbread cookies at 3pm a few Wednesdays ago.  Sigh.  Hormonal eating at its best.
But I redeem myself when I buy good products and make thoughtful eating choices when it comes to snacks and meal planning.
As you might already know, I've partnered with Kings Food Markets for the past year or so as a brand ambassador, and have been able to incorporate some fresh, fantastic and premium quality products into my family's dinner and snacking routines.
Around the holidays, I wrote about the inspiration I found in Zoodles (spiralized veggie noodles).  And I'm back to tell you I'm still Zoodle obsessed! This time, to make good on "the Shortbread Incident", I decided oven-baked sweet potato zoodles were the perfect pairing to a green salad topped with grilled chicken for lunch recently.
I don't know about you, but a salad for lunch or dinner isn't complete for me without a basket of fries to nosh on. Yeah, yeah, I know – defeats the purpose of the salad in the first place, but a gal has to treat herself sometimes!  But since I'm trying hard to be healthy, replacing out deep-fried French fries for oven-baked sweet potato Zoodles was a priority for me.
Making them was easy, thanks to Kings.
I bought my sweet potato Zoodles already shredded up in the produce department of my local Kings.  Then I pre-heated by oven to 450, lightly greased a large sheet pan with some olive oil, and spread out the zoodles as evenly as possible.  A nice dusting of sea salt and fresh cracked pepper, a drizzle further of EVOO, a tiny massage and into the oven they went.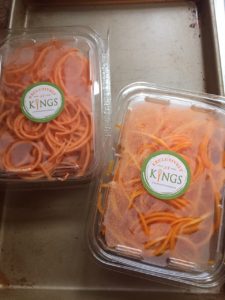 I kept an eye on the timer and my oven Zoodles – giving the pan a good zshuge a few times while cooking and then let them sit a little before diving in.
Now talk about a guilt-free thing to snack on — oven-baked, sweet potato Zoodles!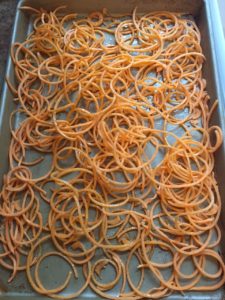 I can also see them on a dinner plate in a little nest with a petite filet or piece of grilled chicken perched a top. Or served at breakfast with delightfully runny poached eggs.  Maybe a splash of hollandaise if we really want to go there.
Thanks, Kings, for keeping me ever inspired by ways to Zoodle!
oxox
-mom a la mode
{I am a brand ambassador for Kings Food Markets. Product samples and compensation were received for this post. All opinions expressed here are solely mine.}